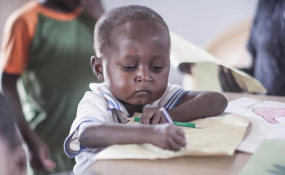 Photo: Solomon Adufah/Instagram
During October, various internet photo memes popped up featuring a Ghanaian toddler absorbed in his art work. The boy became a viral sensation across social networks in South Africa, and now the full, inspirational story behind the photo has been revealed.
This is Africa, the original 2015 photo of the boy, Jake Amo, was taken by American photographer Carlos Cortes. Cortes was in the country, following renowned Ghanaian artist Solomon Adufah, who was returning to his home country after growing up in the US.
The two visited a pre-school in the village of Asempanaye, in the Koforidua region, as part of Adufah's project to promote art classes in Ghanaian schools, where the image of Jake was taken.
Adufah shared one of Cortes's photos on Instagram in January 2016, to help to promote his project. But it was only in September and October that South African internet users took to remixing the photo into comic memes.
But it's not all about the laughs. Thanks to the popularity of the meme and the story behind it, people have started to contribute to Adufah's art initiative, Homeland Ghana, raising more than $4 000 within 48 hours for art education in and art supplies for Ghanaian schools.
Dear Internet, let's donate to Jake. The kid we have had fun with. Let's be as enthusiastic about donating. https://t.co/wYdnKnma2s pic.twitter.com/w1i0cWuS6Q
Source: This is Africa
SouthAfrica.info reporter