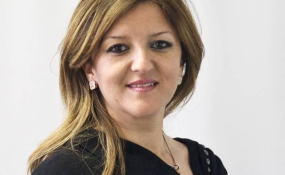 Photo: Supplied
interview
The scale of Government support for start-ups and innovation in Morocco would put many Sub-Saharan African Governments in the shade. This week they have also innovated by appointing a woman - Lamiae Benmakhlouf - as head of the Government-owned Moroccan Information Technopark Company. What follows below is an interview with Lamiae Benmakhlouf from Quid.ma translated into English.
Heading up Morocco's first start-ups incubator is not an easy task. But Lamiae Benmakhlouf, the new Executive Director of Moroccan Information Technopark Company (MITC), has no doubt that she has the ability to meet the challenge, as she told Quid.ma. She shares with us her vision and ambitions for MITC.
Q: How were you appointed as head of the MITC?
I was traveling in the US for the TechWomen program on October 15, when contacted me for an interview with our Minister and after a few days, I was appointed by the Board of the MITC.
Q: How did you feel about it?
A: I was already proud to be in the organization, supporting its head since 2002, and at the same time I was ready for the challenge to pursue the vision we have established and implemented for years. One of the most valid reasons for my appointment, moreover, is to ensure the continuity of projects of my predecessor, which were a success. The Technopark is now in the regionalization phase of strategy and this will ensure that this continues.
Q: What is your vision for the Technopark?
A: I will not change the existing vision. What I will do is continue the work developed by Omar Balafrej with continuous improvement of services for the benefit of our customers and of course the implementation of some projects that inspired me when I was in Silicon valley.
Q: Are there will be new Technoparks that will emerge?
A: For now we are totally focused on the northern region of a startups facility in the Technopark Tangier. You should know that the management of MITC is very limited, there are only 35 staff for 3 Technoparks, but we make do. The key for us is to finalize the installation of startups in the Technopark of Tangier, and then we will think of creating others ... But this will occur only when the authorities will find us a property located near to and accessible for public transportation.
Q: Can you give us an idea about the failure rate of startups within Technoparks in Morocco?
A: At Technopark the failure rate is minimal for several reasons. First we introduced several years ago a selection process that is still in place today; the eligibility criteria include a detailed business plan and several other things. Then, after the company is accepted by the Technopark, we require a recommendation from a member of our ecosystem, after which it will become a member of an association that will provide the necessary support in terms of entrepreneurship and mentoring. So we minimize the failure rate.
Most times, when a startup is in a difficult situation, it will recover. There is a mentor or support person to assist the start-up to recover, and in some cases they even receive funding to get them out of the abyss.
Q: What about Morocco Numeric Fund?
A: It is the only fund dedicated to new information technologies. It has had great success with its 17 investment. This success has allowed us to ask (the Government) for the creation of MNF2, which has been justified by the good progress of MNF1. We could boost a lot of startups through this fund that is dedicated to innovative projects that have the added value we invested in all the funds of MNF1, and is preparing us for a second experience so other innovative projects can benefit.
Q: What are your ambitions?
To continue the work that was done while modernizing our management processes, expand our ecosystem by multiplying our partnerships with other entrepreneurial actors and accelerate regional duplication of Technopark,
To achieve this, we will rely on the involvement of other local actors. There is a long waiting list in every city where the Technopark exists, it means that the environment of the Technopark encourages young people to realize their projects and create their businesses. These companies find comfort and support is needed remains to facilitate their financing and especially market access. This last point remains the major difficulty experienced by our startups.
To read the interview in the original French: http://www.quid.ma/economie/entretien-avec-lamiae-benmakhlouf,-la-nouvelle-dg-du-technopark