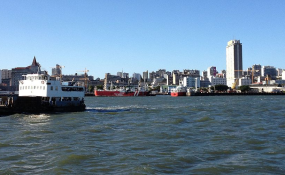 Photo: Gustavo Sugahara/Wikipedia
By Joseph Hanlon
Juma Ramos, head of the Renamo group in the Sofala Provincial Assembly where Renamo holds a majority of seats, was gunned down Sunday 30 October. He was also Renamo head of mobilisation in Beira. He was shot at about 20.00 at the informal stall he owned in the Beira neighbourhood of Palmeiras II. He died on the spot. According to witnesses, two armed men emerged from a car and shot Juma at point blank range. This is the 8th assassination of a senior Renamo figure this year.

Abilio Baessa, Renamo deputy director of the Zambezia Election Secretariat (Secretariado Tecnico de Administracao Eleitoral, STAE) was shot and seriously injured on 2 November as he walked near the police station in Mocuba.

Meanwhile, on Saturday 29 October Renamo gunmen kidnapped and assassinated two Frelimo circle secretaries, Arao Chiguemane and Antonio Macurreia, in Mutua, Dondo, Sofala. A third circle secretary in Mutua, Bernardo Gimo, was injured. The three were forced to walk through the bush then were tied up and shot. The group was said to be 10 men, four with guns and six with machetes.

Renamo soldiers last week kidnapped and beat a "regulo" (traditional chief) in Ruele village in Manica district, Manica. He was dragged into the bush, where he was severely beaten, and rescued by police two days later. (AIM En 31 Oct, 3 Nov, O Pais 1, 3 Nov)

Meanwhile the police commented on the attack on the place where mediators were supposed to meet Renamo head Afonso Dhlakama. Police spokesman Inacio Dina said on 1 November that no one had told them about the meeting. In any case, the police "have a mandate to move throughout the national territory", and that its movements cannot be interpreted as ambush attempts. (Lusa, O Pais 2 Nov)

A newspaper and a radio station in Moatize, Tete have been vandalised and have lost all their equipment, and another radio station suffered an attempted robbery in the same district. Lusa (2 Nov) notes that "the three media outlets are known for their impartiality and for dealing robustly with cases of corruption and the current political and military crisis. They all reported on the issue of Mozambican refugees in Malawi earlier this year, which local authorities denied." Aparicio Jose from the weekly newspapaer Malacha, which lost all its computer equipment, said "I think it's a media hunt. It's noticeable that there have been three robberies in less than a week.".

Suspect in prosecutor murder escapes
One of the three men arrested in connection with the 11 April murder of senior prosecutor Marcelino Vilanculos escaped from a Maputo prison on 24 October. Abdul Tembe was accused of driving the car of the hit squad that murdered Vilanculos. Tembe was initially held in the cells of the Maputo Police Command, in the centre of the city, but was moved to the Central Prison, in the suburb of Machava. Security at the Police Command is much tighter than at Machava Prison. (MediaFax 2 Nov)

Vilankulo was investigating the wave of kidnappings of businessmen (mostly of Asian origin) which has hit Mozambican cities since 2011. In particular he was investigating Danish Satar, suspected of being one of the masterminds behind the kidnappings. Danish Satar fled Mozambique in 2012, but Interpol arrested him in Italy and in December 2015 he was deported back to Mozambique. Vilanculo was also looking into the assassination in March 2015 of the prominent Franco- Mozambican constitutional lawyer, Gilles Cistac.