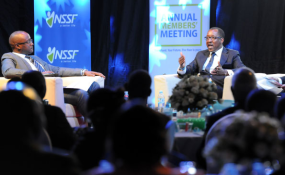 Photo: Rachel Mabala /Daily Monitor
By Mark Keith Muhumuza
Kampala — The National Social Security Funds (NSSF) is continuing to have a greater control of how Umeme is run following an aggressive pursuance of more shares in the utility company.
On Monday NSSF confirmed that its stake in the utility company had increased to 23 per cent up from 15.5 per cent. In a transaction valued at Shs59.4 billion, NSSF is cementing its position as the single largest shareholder in Umeme, with transactions that can be traced as far back as 2012 when the utility company went public.
One wonders whether this deal will see any reduced outages because NSSF savers continue to own more of Umeme. By owning more shares, NSSF is growing its portfolio of investments in Uganda in order to generate a sufficient return to investors.
In a statement issued by Mr Richard Byarugaba, the NSSF managing director, he noted: "Umeme Limited also enjoys attractive future prospects, making a key holding in our equity investments portfolio."
On the Uganda Securities Exchange, Umeme has been the company that has generated higher returns for NSSF members. Ever since the company went public in 2012, NSSF has earned Shs22.27b in dividends. Umeme has had a dividend policy of paying out twice a year - for the half year and full year. No other listed company has done that consistently like Umeme.
On top of a better return, NSSF will have a better voice in Umeme. This protects the interests of NSSF members but also plays into the broader ambition of investing in the electricity sector in Uganda.
"It also fits well within our plan to deploy capital in growing areas like the energy sector. Uganda still has one of the lowest electricity consumption per capita levels in the world, with only an estimated 15 per cent of the population having access to electricity," Mr Byarugaba says.
Important to note, however, is the fact that Shs60 billion is not going to Umeme but rather Actis, the previous shareholders.
NSSF is only permitted to deploy funds to listed companies or any other schemes approved by Capital Markets Authority. The Uganda Retirement Benefits Regulatory Authority regulations restrict NSSF from investing in the company directly if it is not listed. These restrictions also mean NSSF has limited options to invest.
How the transaction went.
Last Friday, the Uganda Securities Exchange announced it had suspended the trading of Umeme shares to allow Actis (Umeme Holdings) negotiate a private placement for the sale of its 14.5 per cent stake in Umeme. NSSF, through its transaction advisors, was able to negotiate for a discounted rate of Shs488 per share by private placement.