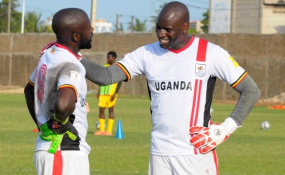 Photo: Daily Monitor
By Andrew Mwanguhya
Kampala — The 1-0 Fifa 2018 World Cup victory over Congo Brazzaville will have been welcomed by Ugandans and Cranes coach Micho Sredojevic on Saturday - but not the attendance.
Like any coach, you always want the crowd to get behind you, to give you that lift in adversity. But then the crowd has to be there first for them to lift you.
On Saturday, Micho was left inconsolable after the huge Namboole swallowed the thousands that made their way there to witness the match.
"I'm disappointed and surprised," said a literally disappointed and surprised Micho, his eyes popping out - as if looking for a sign, and pores letting out of his face beads of angry sweat.
Shaking his head in resignation, the 47-year-old added: "We have just qualified for Africa Cup of nations and stopped being the punching bag of everyone but we are getting today less than 10,000 people coming to watch us."
An estimated 10,000 people attended the match at the 42,202-capacity Mandela National Stadium, Namboole. "I don't get it," added Micho. This was a complete departure from the well over 50,000 people that crammed the facility in the final Afcon qualifier against Comoros in September, leading to suspicions that Fufa could have printed more than the stadium capacity tickets.
Several fans with genuine ticket were actually left stranded with their, now, costly paper acquisitions. Police promised a probe into the fiasco at the time, which is still at large.
The low crowds could be attributed to Afcon qualification hangover, pricing of tickets (it was the same as against Comoros) or the delay of tickets to hit the market. Tickets were released to the market three days to the match.
"Last time (against Comoros), tickets were on sale almost two weeks to the match and we learned from URA that many forgeries were made for the tickets," Fufa Organizing chairman Bernard Ogwel earlier explained the delay of tickets to hit the market.
"That is how those with fake tickets entered Namboole (against Comoros) leaving those with genuine tickets stranded. We want to abate that."
Where the Cranes have lost character or run out of sorts, they have always counted on the 12th man to carry them over the line. Micho definitely wants that extra player to quickly get back into form.