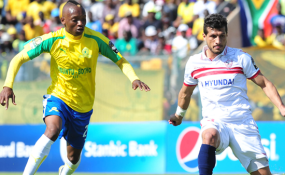 Photo: Mamelodi Sundowns
A former Super Eagles midfield maestro Friday Ekpo, yesterday described the exclusion of Nigeria players from the five finalists for the 2016 Confederation of Africa Football (CAF) Player of the Year Award as worrisome.
No Nigerian player was among the five players announced by CAF on Tuesday as final nominees for the annual award.
Mikel Obi, Ahmed Musa and Kelechi Iheanacho were part of the 30 players earlier listed for the award, after which the top five were selected.
Ekpo said that the nomination showed that the country's players have not performed creditably in their clubs and national team.
"Honestly, it's a worrisome situation for our football, we have produced numerous CAF footballers of the year in the past but it's a different scenario in the recent times.
"It shows that our players are not doing enough in their various leagues and national team to merit the award.
"So, for me it's not surprising that none of our players was part of the top five finalists," he said.
Also, Falade Oyekan, board member, Lagos State Football Association told NAN that players must up their game to get the desired recognition.
"We have won this award several times and I still believe we have players that can still win the award if they are ready to do the needful," he said.
Emmanuel Adisa, a grassroots coach in Ajegunle area of Lagos said that the exclusion of Nigerian players from the list was a sign of the decline in the country's football.
"No Nigerian player deserves to be in the top five players for the CAF award because of the present state of our football," he asserted.
The country had won the CAF awards five times since its inception in 1992.
Kanu Nwankwo was the last Nigeria player to win the award in 1999 having won it in 1996.
NAN