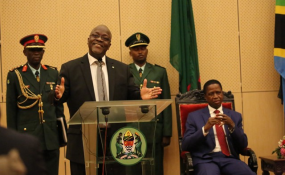 Photo: Daily News
By Janeth Mesomapya
Dar es Salaam — Zambia's President Edgar Lungu is expected in the country for a three-day tour starting Sunday. The State visit aims at strengthening bilateral economic and diplomatic relations.
This was revealed by the minister for Foreign Affairs and East Africa Cooperation, Dr Augustine Mahiga, during a press conference in the city, who said that during the visit, five agreements covering various sectors would be signed for mutual benefit.
Dr Mahiga was accompanied by Tanzania's High Commissioner to Zambia, Ms Grace Mujuma, and the director for the Department of Africa, Mr Samwel Shelukindo.
"The sectors under the five agreements will include transportation, including air travel between Dar es Salaam and Lusaka, diplomatic consultations, immigration and prisons," he said. According to him, others include simplified trade regimes and border agreements in which further discussions on the one-stop-border post under construction in Tunduma will be held.
Dr Mahiga explained that the construction of this joint centre will be due in the next 15 to 18 months to simplify movements and provision of services at the border.
According to him, President Lungu who will be accompanied by over 20 delegates. On the second day, he will visit the Tanzania-Zambia Railway (Tazara), Tanzania-Zambia Oil Pipeline (Tazama) followed by a state banquet, and on his last day he will stopover at Dar es Salaam Ports Authority. Dr Mahiga explained that at Tazara, the Heads of State will discuss issues of management, including salaries which has been a challenge due to profit decline, together with replacements of train wagons and engines.
As regards the Tazama pipeline, the two leaders will discuss plans to add another portion within the same pipe that will transport gas, therefore increase the number of commodities transported besides crude and refined oil.