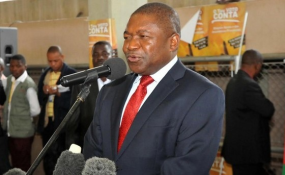 Photo: Angop
Maputo — Mozambican President Filipe Nyusi on Friday appointed Conceita Sortane as the country's new Minister of Education and Human Development.
She replaces Jorge Ferrao who was relieved of his ministerial duties the previous day, when Nyusi appointed him Vice-Chancellor of the Pedagogic University, Mozambique's largest institution of higher education.
Sortane has spent most of her professional life in education, and holds a master's degree in education from the Catholic University of Sao Paulo, Brazil.
She is a member of the Political Committee of the ruling Frelimo Party, and a Frelimo member of the country's parliament, the Assembly of the Republic. She chairs the Assembly's Commission on Social Affairs, Gender, Technology and the Media.