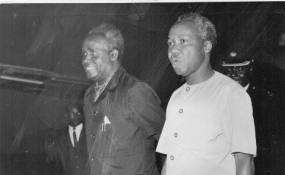 Photo: Daily News
analysis
By Florence Mugarula
Tanzania and Zambia stand in the world as the most peaceful countries in Africa. The two countries have experienced economic growth since they attained independence from Britain in the early 1960s.
Among the achievements that make the two countries better known as 'islands of peace' is the handing over of power from one leader to another. This political attribute has been a challenge to some other African countries and it can be said it has plunged them into political violence and the killing of innocent citizens.
To Tanzania and Zambia democracy is about peace and tranquility. Tanzania and Zambia are one of the oldest allies in the region and together formed the frontline states during the liberation struggle in southern Africa-South Africa, Zimbabwe, Mozambique, Namibia and Angola.
The founders of the two nations, Mwalimu Julius Nyerere and his Zambian counterpart, Mzee Kenneth Kaunda were great friends who shared the same political aspiration-to develop their countries based on the equality of citizens.
The two great men were also committed to end colonialism and exploitation in Africa as well as apartheid in South Africa. Apart from the obtaining geographical boundaries, Tanzanians and Zambians are one.
There has been both economic and social interaction among people from the two sides. Trade relations, which include exchange of goods has been going on along the border for decades without any hindrances.
This alone symbolises good relations between the two sides. Also Zambians and Tanzanians who reside along the border share experience in various areas such as agriculture, entrepreneurship and other economic activities.
Some volumes of informal trade and movements including pedestrian crossings have been taking place peacefully along the border as a sign of good brotherly relations between the two countries. social interaction Zambians and Tanzanians live like brothers and sisters.
They share languages such as Chinamwanga, Chibemba and Kiswahili. Since Tanzanians and Zambians have common interests, it has been a normal practice for them to engage in inter-marriages.
There is no doubt that a good number of Tanzanians have been educated in Zambia and vice-versa. Education, skills and technological exchange is another area that brings Tanzanians and Zambians closer.
The two sides have been cooperating in such areas for many years now. A number of Tanzanian women are married to Zambians and vice-versa. This link brings the two countries more closely. University of Dodoma (UDOM) lecturer, Paul Loisulie said in an interview that it can take one a year to study the history of social relations between Tanzania and Zambia. He said the two countries had links even before the coming of colonialists.
"People from Tanzania and Zambia used to be one family, they lived together for many centuries before the coming of colonialists who decided to carve geographical borders," he said.
According to Loisulie, the culture and tradition of Zambians people and Tanzanians who live along the border town of Tunduma are related. He said such close similarity did not come as an accident but a sign of unification.
Editha Sambara, a resident of Songwe Region, said it is difficult to differentiate between Tanzanians and Zambians at Tunduma because they look alike in everything. She said children play together and youth share ideas on different issues.
She said many families along and near the border on the Tanzania side have relatives in Zambia. "Our children are getting married to Zambians; we are relatives and one family, we share some traditions and cultures," she said.
She said President Edgar Lungu's visit to Tanzania means a lot to the people of Zambia and Tanzania. She said his visit cements a long relationship that has been existing for centuries.
The construction of the Tanzania- Zambia Railway Authority (TAZARA) cemented the relationship between the two countries. People from both sides have been interacting due to the reliable railway line. The railway, also referred as Uhuru railway, has made life easier for the majority Tanzanians and Zambians.
Mr Klaus Diederich, a Germany tourist who travelled with TAZARA train from Dar es Salaam to Kapiri- Mposhi, said that apart from promoting tourism and economic growth in the region, TAZARA brings Tanzanians and Zambians together. "There has been social interaction between Zambians and Tanzanians because of TAZARA.
People have been mingling easily, he noted.