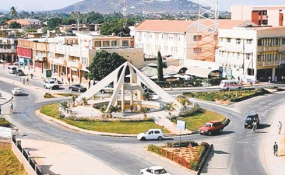 Photo: The Citizen
opinion
Since Dr John Magufuli became President of the United Republic of Tanzania, one of his major tasks was to accomplish Mwalimu Julius Kambarage Nyerere's plan taken in 1973 of making Dodoma the capital city.
President Magufuli also assured all Tanzanians that by the end of 2020, the entire government will have shifted to Dodoma, thereby making Dodoma the capital city of Tanzania, a move that has been dragged for 43 years due to financial limitations coupled with lack of political will.
After dragging its feet for more than 43 years, the government now appears determined to move its operations from Dar es Salaam to Dodoma.
The move has been welcomed by a broad-cross section of Tanzanians, who have been eagerly waiting to see the government business move to the new national capital-designate and this will influence a swift move of the majority civil servants, embassies, commercial hubs, investors as well as so many other stake holders, all of these will need land in Dodoma and this brings me to what I want to discuss and this is "interest in land and market value".
Since a long time land value was associated with developments on land and unexhausted improvements on that particular land, the notion which has been perceived to lower the value of land in the market.
But in land law, the underlying principle in ownership of land is that, he who owns land, has interest in that particular land, and in case of any acquisition thereto it is that interest that need to be compensated, unexhausted improvements only adds to the already existing value of the land.
So, any disposition of any given land must take into account the market value of land, and such a value can be obtained from qualified valuers, taking into account the market value of other properties in similar locations.
The rationale behind compensation in land is due to the fact that land is considered as a real property, where any person by virtual of being a Tanzanian can just own land as private property and that right is protected by Article 24 of the Constitution of the United Republic of Tanzania, 1977.
So, whoever intends to acquire land, compensation is a must for the transaction to be lawful. This requirement does not only bind individuals, but also the government.
In determining the value of the interest in land for one to be compensated, clerical assessment is conducted, taking into account the following: the market value of real property, disturbance allowance, transport allowance, loss of profit or accommodation, cost of acquiring or getting the subject land, loss of capital expenditure incurred in the development of the subject land and interest at market rate.
With the influx of people and stakeholders, who will shift to Dodoma with the government, we are expected to see even the market value of interest in land increasing. People, who own interest in land in Dodoma this is their ample time to make real business out of their land. As a results, one should expect to experience the following:
1. Compulsory acquisition: this happens when the President of the United Republic of Tanzania acquires land for public purposes, as enunciated under section 11 of the Land Acquisition Act, 1967.
This reminds all Tanzanians that all land in Tanzania is vested in the President as the trustee for and on behalf of all citizens of Tanzania. At any time the President may acquire any land regardless, who occupies it.
Therefore, with the government moving to Dodoma, all Dodoma residents must expect at some point that some of their land may be acquired compulsorily by the President for public purposes.
The only relief before such an acquisition is compensation for the interest in land. This will depend on the market value of a particular piece of land.
Compensation may be of two types: first, it may be monetary compensation basing on the market value of the given property and second, it may be by way of grant of another piece of land with addition of some monetary payments.
2. Disposition: as per land law, disposition means any sale, mortgage and transfer, lease of the interest in land.
As the government will be moving to Dodoma, the designated capital city will experience an increase in any of these forms of dispositions especially the sale and lease.
Therefore, while buying or selling your interest in land, make sure that you do the following: engage a conveyance - in other words - a lawyer with great experience in conveyancing, check out carefully all documentations and do not be afraid to ask your conveyance about anything you are unsure of.
Make sure you inform your lawyer as early as possible about any special arrangements or agreements you have made with the seller or buyer.
Make sure property tax and do not forget to specify in your sale agreement, who will be responsible to pay for transfer costs and taxes. For those, who will be selling their land, always remember to pay your capital gain tax to make your transactions legal and valid.
The author is an associate with ABC Attorneys.