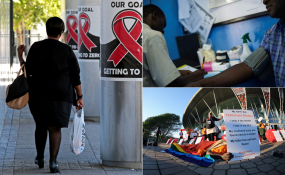 Photo: allafrica.com
By Rosemary Martin, Vodafone Group
Travelling clinics enable on-site HIV testing as part of a wider effort to provide basic primary healthcare in remote communities
Flying in a small plane to Maseru, the capital of Lesotho, it is easy to see how this tiny mountainous kingdom managed to keep itself independent. Silent, unpopulated plateaux fall into secret ravines, while dirt roads criss-cross the pale land that lies waiting for the rains to come to turn the brown lands green again.
On the drive from the airport to the capital, scattered between the occasional hoardings are placards pronouncing the latest news. A lot of it is political. One news placard catches my eye. It reads: 'Lesotho's economy boosted by sex workers'.
A disturbing headline, and even more concerning in a country where one in four people are living with HIV.
As many as 5,000 HIV positive children under the age of 14 are estimated to be undiagnosed, and their lives are at immediate risk if they are not identified and put on treatment. However, access to treatment is challenging. Most people live in extreme poverty in remote and rural communities separated by mountainous terrain with minimal infrastructure.
I travelled to Lesotho earlier this year to meet with the Vodafone Foundation's funding partners and the Lesotho government, who we are working with to deliver a pioneering HIV programme where our technology plays a central role in providing access to treatment in the most remote communities.
Our programme combines M-Pesa - Vodafone's mobile money service which is widely used across sub-Saharan Africa - with travelling clinics and a smartphone app designed for healthcare professionals to track patients in remote areas. The travelling clinics are a fleet of 4x4 vehicles which enable on-site HIV testing as part of a wider effort to provide basic primary healthcare in remote communities. When people are identified as HIV positive, they are immediately registered with the M-Pesa mobile money service and receive funds so that they can pay for transport to a treatment centre. At the same time, their details are recorded (via mobile) on a central database so that their future treatment and care can be planned and recorded.
In our meeting with our partners and Lesotho's Minister of Health, the sense of hope, possibility and determination were palpable. All were confident that the combination of the power of mobile technology, the travelling clinics, money from our funding partners and the application of the programme's management techniques will provide the much-needed breakthrough to success in the identification and treatment of children needing HIV treatment.
One of the mothers who uses the mobile clinics is HIV positive. She wished to remain anonymous, citing the stigma attached to HIV in Lesotho. She visits our mobile clinic on a regular basis to receive her anti-retroviral treatment and general paediatric care for her baby. She also receives M-Pesa payments to allow her to travel to a clinic for the tests she needs.
The mother found out that she was HIV positive when she was pregnant with her daughter, and the nurses helped her access treatment to prevent her daughter from contracting HIV. Today, her daughter is a healthy HIV negative nine-month-old, and her mother credits the programme for keeping her daughter alive and the fact that she "can hold her in [her] arms".
The programme is designed to manage the societal and geographical challenges, from the stigma of admitting to being HIV positive in Lesotho to accessing remote and difficult to reach communities. And now, the Lesotho government has welcomed the outcomes of our work in Lesotho's Maseru and Leribe districts and has committed to integrating the programme within the country's primary healthcare strategy from mid-2017, ensuring that thousands more mothers and young children can receive the care and support they need.
The Vodafone Foundation's mobile clinics are run in partnership with Baylor International Pediatric AIDS Initiative (BIPAI) and Riders for Health. Other funding partners in the wider Lesotho programme include USAID, ViiV Healthcare, the Elton John AIDS Foundation and Elma Philanthropies.
Any views expressed in this article are those of the author and not of Thomson Reuters Foundation.