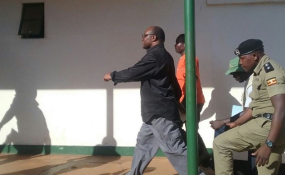 Photo: @943qfmlira/The Independent
Police have released names of some of the suspects arrested in a joint operation with the Uganda People's Defence Forces (UPDF) following fresh clashes in Rwenzori sub-region clashes.
More than 100 people, including Rwenzururu King Charles Wesley Mumbere have been arrested and detained in different police stations in the region.
According to Police spokesperson Andrew Felix Kaweesi, at least 62 have been killed in the clashes that saw Mr Mumbere charged with murder before being remanded to prison on Tuesday.
Below is the list of some of the suspects:
1. BERIHYA THONGU
2. ANNET IHUNGU
3. GETRUDE MASIKA
4. DENISEY KINYANSITU
5. ENID BIIRA
6. BWAMBALE ERIC
7. MUHINDO CHARLES
8. BAGENDA SUNDAY
9. KITEMI JOSEPH
10. THEMUO YUSUF
11. KAWUJOO JOHNSON
12. BWAMBALE MADESTO
13. BIHIRU IVAN
14. MASEREKA EZEWA BAJUMANI
15. BLOODY BESAMUEL
16. MUHINDO M. JOKEMU
17. KULE JOSEPH
18. KIBIGURA M YOSIA
19. BEHANIA HAMMADA
20. MASEREKA HAMMADA
21. MUBERE JIMMY
22. MASEREKA EDSON
23. BAKEDIA CHRIS
24. MUHINDO JULIUS
25. MATOKA ZAVEZ
26. BWAMBALE EDSON
27. BW AMBALE EDWARD
28. MUTINA NASON
29. BEHABA LUCUS
30. KULE MOSES
31. KILE WISELY
32. BW AMBALE DAN
33. MUHINDO ALFRED
34. MASEREKA MICKDADY
35. BLSA MCODEMU
36. DRUM TOM
37. MASEREKA MANEBA
38. MARREY EAGLE
39. MARADAD SOUL
40. BULIGH IVAN
41. THEMBO AMON1 .S.
42. BW AMBALE BOSCO
43. BW AMBALE FAGASON
44. LYAH/NDA THASIMWA
45. BAYISIRIRYA ISAAC
46. BYABL MERES1
47. MASIKA JOLLY
48. IRENGE RABINISON
49. KULE ALIFUREDY
50. MBUSA NEHEMIAH
51. ALIGANYIRA JACKSON
52. MUHINDO CRISPOUS
53. HWAMHALE W1LBF.R
54. BWAMBALE AMUNI
55. KAHUJU ERICK
56. MONDAY STANELY
57. BWAMBALE JOSHUA
58. MUHUMUZA JUSI
59. KULE FANASI
60. BWAMBALE VICENT
61. BWAMBALE MBARANGHA
62. MUMBERE JULIUS
63. KULE FRIDAY KATWANGA
64. BWAMBALE ISA
65. HEZEKIAII MUKUHI
66. MUMBERE JOHNSON
67. MAKUWA HEZRON
68. MBUSA BUGHURA
69. MASEREKA WILLIAM
70. BWAMBALE JOSHIAH
71. KIBUDUKA ISMAIL
72. MURONGO THIMOTHY
73. MUHINDO MOSES
74. BALUKU TASI ISUMAN
75. KALIEGH JULIUS
76. REGINA
77. MKABU JOSZO
78. MUHINDO MARY
79. BALUKU ALFRED
80. KIGOMA HEIRUMBA
81. MUHINDO JOHNSON
82. KULE MUNABYE
83. TAYEBWA JORAM
84. KABURURO KE1ZIAH
85. MATEKELE WILLIAM
86. BWAMBALE JOHN
87. BWAMBALE NOSON
88. SONDEL1A ZACKALIA
89. KABUWO JENNIFER
90. BWAMBALE BAKENGANA
91. BWAMBALE TAHELI
92. BALUKU JAMES
93. IBISATU GRACE