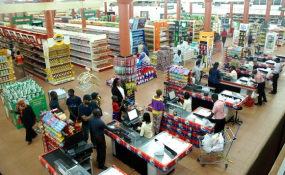 Photo: Rachel Mabala /Daily Monitor
By Martin Luther Oketch
Kampala — Bad weather conditions due to climatic change have affected food production in Uganda, leading to a resurrection of the upward inflation trend.
Due to the bad weather condition, the country is currently experiencing food supply shocks, something the Private Sector Foundation Uganda (PSFU) predicts will be worse in the next six months.
The Consumer Price Index (CPI) released by Uganda Bureau of Statistics on November 30 shows that that Uganda's annual headline inflation has risen to 4.6 per cent for the year ending November 2016 compared to 4.1 per cent registered in the year ended October 2016.
In an interview with Daily Monitor yesterday, the PSFU executive director, Mr Gideon Badgawa, said: "We have had some challenges with markets both internal and external production of food in the country has been affected by the weather condition. The manufacturing sector has also been affected because projects are not buying goods from within."
Mr Badagwa said the challenge of bad weather has led to less low production resulting into reduced supply of food in the market. Maize production has had a big hit because the maize growing areas have had drought.
Due to the prevailing bad weather, Mr Badagwa warned: "We are heading for doom (famine) in the next six months due to food supply shocks which have affected the Eastern region."
Mr Badagwa stated that what is happening now is a recurrent situation of what happened three years ago when inflation was high following high food prices.
While releasing the CPI figures on Wednesday, the principal Statistician Price Statistic Uganda Bureau of Statistics, Mr Vicente Nsubuga Musoke, said the increased annual headline inflation was due to increase in annual food crop inflation that rose to 7.1 per cent for the year ending November 2016 from the 1.7 per cent recorded for the year ended October 2016.
"The rise in annual food crops inflation is attributed to fruits inflation that increased to 13.1 per cent for the year ending November 2016 compared to the minus 1.1 per cent registered during the year ended October 2016," he said.
Causes of inflation
Key services. CPI figures reveal that the key services that pushed up the annual inflation include: education that registered an increase of 19.7 per cent plus restaurant and Hotels that recorded an increase of 6.5 per cent for the year ended November 2016.