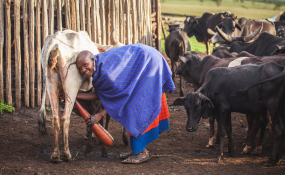 Photo: Ivan Gonzalez/SciDevNet
Tanzania may in the next 15 years experience acute shortage of red and white meet as well as milk, the Tanzania Livestock Master Plan (LMP) has warned.
LMP has therefore, in its assessment of the country's demand for the main livestock products in the next 15 years suggested strategic measures to increase the sector's production.
The assessment indicates that there will be a shortage of about 1.7 million tonnes of red meat, an equivalent of 33 per cent of the demand while the shortage of white meat is estimated at about 234,000, which is 47 per cent of the demand.
Milk scarcity is forecast at 5,870,000 tonnes, 38 per cent. A Senior Economist from the Department of Policy and Planning of the Ministry of Agriculture, Livestock and Fisheries, Mr Steven Dalali said in Dar es Salaam yesterday that the plan focuses on improving production in the livestock sector to contribute to household and country's income.
Mr Dalali said the government has created enabling environment by devising the strategies to avert the meat scarcity.
He said there will be proper management of statistics collection that will point out areas of investment to reduce poverty and boost development. "In the plan assessment, there is a proposal in the area of policy and technology for the next 15 years and the need for livestock products to help the country attains its ambitious plan of becoming a middle income economy," he stressed.
On the scarcity of red meat, Mr Dalali said the main challenge remains on getting land for livestock keeping due to chronic disputes between farmers and pastoralists in the country.
"The conflicts pitting pastoralists against farmers have so far been derailing production ... our plan therefore is to revamp the sector and bring positive changes as well as reduce poverty through increased food security," said Mr Dalali.
Tanzania Association of Pastoralists Secretary General, Magembe Makoye appreciated the plan as a positive move, giving proper direction for pastoralists in the next fifteen years. However, he decried land availability as the critical challenge impeding production among pastoralists.