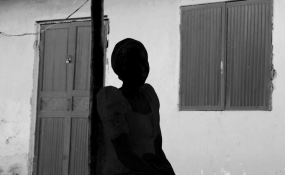 Photo: Plan International
It was an unusual technique, but it paid off. When Sarah* (then 18) and her stepmother were abducted by Boko Haram in 2014, Sarah decided that her best chance at survival was to pretend that she was disabled, hoping it would make her undesirable to the militants.
Sarah and her stepmother were working on their farm when the militants abducted them. There had been a spate of attacks in the region and Sarah knew that her family was at risk by being out in the field, but their choices were limited. Food was already scarce and if they failed to harvest their crops there would be no food for the coming year.
Sarah cannot recall noticing the gunmen arrive, her first recollection was being seized by her attacker and dragged to a truck; her stepmother taken alongside her. "We were loaded into a truck with other women from our area and were driven to a location in the North. There were militants everywhere. I hardly saw any villagers."
When the truck finally stopped, the women were herded into a nearby building. The gunmen were screaming at them and demanding that the women tell them their names. When they got to Sarah, she refused to give her name and stared vacantly into their faces.
"My stepmother realised what I was doing; that I was pretending to be disabled. She told them I had been struck by lightning as a child and had been unresponsive ever since."
The following day as the other women were being forced to learn the scriptures, Sarah and her mother were left on their own. The militants were unsure what to do with their peculiar charge and were confused by Sarah's behaviour which they found both odd and mysterious. They even questioned Sarah's mother.
"My mother stuck to her story that I had been struck by lightning. She told them I couldn't talk, hear or even clean myself. This seemed to disturb them and they didn't ask her about it again."
Adjusting to her new role, Sarah ensured her behaviour became increasingly erratic. She refused to feed herself and even feigned that she could not use the bathroom, soiling herself in a bid to disgust her captors.
"I was ready to play any role to avoid being touched by those men though, as I knew the fate of other girls captured by the armed group. They are forced into marriage and made to serve all their needs."
Her tactics worked and when the group moved from the area they left Sarah and her stepmother behind.
Although they were able to escape, life has not been easy for Sarah or her stepmother. The ongoing violence in the region has led to soaring food prices and seeds have become increasingly hard to come by. What seeds that are available are often low quality and incredibly expensive.
"It has been very hard for us since we escaped," explains Sarah. "We have had no harvest. We are relying on our friends and neighbours to put food in our bowls. Food is very scarce; everybody is going hungry"
The ongoing security issues has exacerbated an already fragile food situation and the UN estimates that 6.3 million people are now facing a food crisis in Nigeria in the Lake Chad region – over 70 per cent are in northeast Nigeria.
To help alleviate the crisis, Plan International has recently opened two field offices in Adamawa and Borno states - the worst-affected areas in Nigeria. The organisation will provide emergency relief goods for vulnerable families, paying particular attention to vulnerable girls and young women.
We are also putting plans in place to support the recovery and reintegration of girls and young women affected by armed conflict through the provision of educational and livelihood skills.
*Name has been changed to protect girl's identity