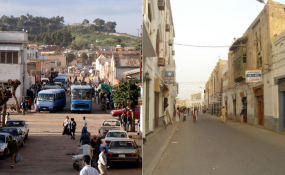 Photo: allafrica.com
Asmara — The application dossier presented to UNESCO World Heritage to list Asmara as a UNESCO'S World Heritage Site won the 2016 Royal Institution British Award "RIBA" President's Medal for Research.
The project entitled "Asmara-Africa's Modernist City" was prepared in collaboration between Eng. Medhanie Teklemariam, Eng. Dawit Abraha from Asmara Heritage Project and Dr. Edward Denison from Bartlett School of Architecture. The dossier supported with more than 1300 pages of photographs depicting Asmara's historic buildings has become this year's award winner.
At the opening speech RIBA President Dr. Jane Duncan said that the nominated site Asmara modernist capital city of Eritrea-home to buildings like the Fiat Taliero is not short of extraordinary buildings. Dr. Jean further underlined that Eritrea's effort to conserve Asmara's early colonial era architecture represents a profoundly different attitude towards architectural heritage and its interpretation and treatment compared with many other post colonial settings.
For the past 50 years the Riyal Institution British Architecture (RIBA) has been awarding successful projects that reflect changes and innovations in architecture, and that display a commitment to designing and developing buildings and spaces for the improvement and enhancement of people's lives.
At the awarding ceremony that was held on 6 December in London, Ambassador of Eritrea to the UK and Ireland, Mr. Estifanos Habtemariam and Embassy staff, Ambassador of the UK to Eritrea, Mr. Ian Richards, diplomats and other invited guests were present.
The application to put Asmara in the World Heritage list is expected to be approved in the first half of 2017.