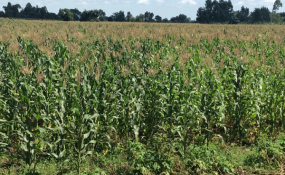 Photo: Daily Monitor
Government social workers here are reportedly forcing elderly and frail people to work in road construction in return for 10kg bags of maize.
This came out during a dialogue meeting conducted by the Community Tolerance Reconciliation and Development (COTRAD) at Four Miles Business Centre last week.
The food for work program brings villagers in drought stricken areas to provide labour in repairing roads, bridges and infrastructure in exchange for food from government. On the other hand, elders and orphans are entitled to free hand outs through the food aid scheme.
But ward 8 councilor, Primrose Mashandi, said social workers in the area were now forcing the elderly and the frail to participate in food for work programs.
"We are surprised that elderly people under social welfare are being forced to work in community development projects such as road and bridge maintenance programme which is unbearable for the aged and sick people," Mashandi said.
"Most of the beneficiaries had to ask others to work for them and some children as young as ten years are seen helping their elders finish the job and in most cases during odd hours," she added.
"When one fails to complete the required working hours, one will be cancelled from the program," she said
One youth, Jealous Zarira, said after working people were also incurring transport and security costs as they live far away from where they work adding that village heads have also turned the food aid scheme into a partisan program.
CCOTRAD Information Officer Ishmael Kupfuwa condemned public officials for gross violation of the constitutional rights of the elderly people.
He said the objective of the food aid program in the area has also been compromised.
"As COTRAD we are deeply concerned about the coercive working of the aged people in Zaka District; our wish is that programmes must properly benefit the intended individuals," said Kupfuwa