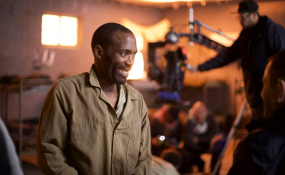 Photo: Noem My Skollie
press release
On behalf of the Producers, cast and crew of Noem My Skollie we need to announce that we are horrified at the video doing the rounds on social media where one of our actors David Manuel who plays the part of "Freddy Gums" is being assaulted by people bad mouthing his role in the film.
This film was based on John W. Frederick's life, but it is a story nonetheless and it is not a documentary.
The film also depicts the life in jail that took place 50 years ago! Also and most importantly, our first screening was inside Pollsmoor Prison and very high ranking members of the gangs were present and not a single objection was made to anything in the film!
On the contrary the entire audience of prisoners and wardens applauded the film.
We pledge our support for a wonderful actor who was able to make his role come alive to such a degree that people think it was the real thing!
This could be seen as flattery but not when it results in such dangerous behaviour as a person's life being threatened. This is called GREAT acting people and David Manuel should be revered not beaten up!