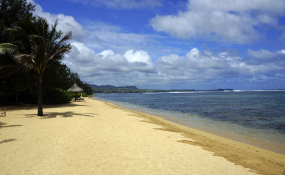 Photo: Julian Mason/Flickr
analysis
There is fighting over the beaches in Mauritius as some activists are accusing South African-born developers of land grabs for an upmarket resort. The developers, however, say it will create a couple of thousand much-needed jobs. CARIEN DU PLESSIS went digging in the sand.
Beach, please. Sheltering from the hot sun under a Flamboyant tree with flaming red flowers, in a square opposite the Jardins de la Compagnie in the Mauritian capital of Port Louis, a group of 40 or so very vocal activists gathered last Wednesday. "Aret kokin nu laplaz!" they shouted, demanding an end to the "theft" of their beaches. Also, "our beaches don't belong to South Africans", they said.
At issue is a feeling that the Mauritian government's policy of encouraging a glut of large-scale development by foreign companies is depriving the locals of their natural resources.
Beaches deproclaimed
On September 3 the Mauritian vice-prime minister and minister of housing and lands, Showkutally Soodhun, published an advertisement on page 23 of the local paper, L'Express, deproclaiming and withdrawing as a public beach "PG Bel Air Public Beach situate St Felix", popularly known as Pomponette beach.
The activists, who dubbed their group after their slogan, Aret Kokin Nu...