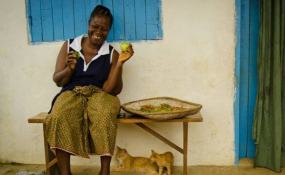 Photo: Ken Harper/ Newhouse School
By Bettie K. Johnson-Mbayo
Monrovia — The United States Ambassador to Liberia Christine Elder says the wounds of the civil war are still affecting women who were raped during the crises.
Liberia's civil war had detrimental impact on its people, creating verities of social challenges for women.
The US Ambassador to Liberia said securing justice for women including those who are raped is a long and promising process.
"On top of the fresh wounds of violence I am curtained far-far women in this room are still walking through sexual assault as they experienced themselves during the civil crises to solve the impact of the civil crises," she said.
Although the US Ambassador didn't directly call for the implementation of the Truth and Reconciliation recommendation, she said without its completion the scars remain as an effect on women.
"Liberia is yet to complete a Truth & Reconciliation process which will properly recognize the pains and lost that can hope but color on how Liberians interact with one and another," Ambassador Elder said.
"From those in this room who bears scars and carry out pains often suddenly, please note that I admire the strength you find in each other and the determination to do everything you can as individual to lead the next generation of Liberian women."
Former International Criminal Court prosecutor, Stephen Rapp recently said "he is more than willing to help pull the strings for the establishment of war crime court so that perpetrators (of the Liberian civil war) cannot go scout free.
But that request would have to first come from the government of President Ellen Johnson Sirleaf.
Quizzed by FrontPage Africa in The Hague on the establishment of an accountability court in Liberia and the pressure he's mounting, Mr. Rapp said he is walking a thin line not to mount pressure on the Liberian government.
He added that during his stint in Sierra Leone at Special court which was set up to prosecute perpetrators of that country's civil conflict, he made several visit to Liberia and it was his hope that Liberia would have taken cue from Sierra Leone.
"I was heavily involved with Liberia when I was prosecuting the Taylor's case -- so many witnesses from Liberia coming to testify in the case which would normally been in Freetown but was moved to the Hague because of the request from regional leader for security reasons ... " he mentioned.
Discriminating Against Female Politicians
Speaking at the launch of the women manifesto - a drive to involve women in politics effectively, Ambassador Elder said female candidates who are vying for elected offices received less support and discrimination from their male counterparts.
"We do see in Liberia some participation for women in the public square declining momentum after the end of the civil war when women came together as cluster," she said.
The US Ambassador said the manifesto should affect women in rural areas so that they can have their views on issues of interest.
Join political party
Gender and Social welfare Minister, Julia Duncan- Cassell encouraged women to be a part of political parties so that they can be identify easily rather than contesting independently.
She asserted that a candidate is easily identified by party's logo rather than independent contestant.
"The women in politics manifesto started 2005 whereas women can be given supported in the political arena and we want to see women given positions like chairman of political and standard bearers of political parties," said Duncan-Cassell.
Liberia's Gender Mnster said the intent is to get women involved in politics, so that they can be a part of the political process which will change the destiny of Liberian women.
"There are too many political parties, [and] women aspirants should form a party and we will hold NEC and political parties to the fire when they failed to include 30 percent as stated by the guideline of the election commission," stressed Ducan-Cassell.
On the issue of funding for female aspirants, Minister Duncan-Cassell said contesting for political office is not about funds, but rather female aspirants need to promote their political ideology or agenda.
No barrier
The National Chairman of the All Liberian Party, Theodore Momo in an exclusive interview, said there should be no barrier for women to take on high post in political parties.
He added that the statement by Minister Cassell is late; stressing that his political party has encouraged women to be part of the structure.
Momo said female politicians currently hold the religious, social service and vice chair in the ALP.
"I will think that there should be no barrel, in stopping women from forming part of the political process, they can rise from those political parties because they will get experience on governance and democracy," the ALP chairman said.
President rule out successor
It can be recalled at the women's manifesto President Ellen Johnson -Sirleaf said it is not likely that Liberia will get a woman president to succeed her in the pending 2017 presidential elections.
The Liberian leader called female politicians and voters to be prepared "for the political game" and concentrate their fight on infiltrating the Legislature, stressing that they must work and earn their political space in the country.
President Sirleaf who won two successive terms in Liberia 2005 and 2011, becoming Africa's first female elected president, bluntly told the gathering ahead of the 2017 presidential elections that women will not get to power on a silver platter, but they must work for it.
More than 22 political parties are registered ahead of the 2017presidential and representatives elections, with dozens of known male presidential aspirants compared to roughly a single female presidential aspirant.
President Sirleaf said women all over the world can get things done, not only in Liberia, assuring them that a lot of people will be behind them if they take the challenge to compete for elected posts in the Legislature.
But she concluded that it was not the time for another woman presidency, saying it was "not likely to get a woman president now; not this time."
Prior to the president's comments, she had been told by a leader of the women group Ruth Caesar that just what they did in 2005 "by breaking the glass ceiling" for both the Executive Mansion and the Legislature is what they were about to do in 2017.