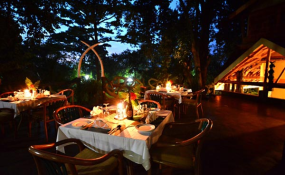 Photo: Daily Monitor
analysis
As a way of appeasing customers, Forest Cottages, a Kampala based luxury hotel, has slashed its accommodation prices as a way of giving back to its old and new clients this festive season.
Mr Dhaval Macchar, the general manager of Forest Cottages, a brilliantly designed Luxury Hotel with
cottages nestled within a peaceful African forest setting, said the hotel has put together various offers from which their customers can choose.
Macchar revealed that one of the three offers available at the moment is one where customers are entitled to a 15 percent discount.
"The festive season has already started; anyone can book for accommodation from now onwards till 15th January," Macchar said in an interview and added that this offer comes with breakfast in the morning.
Macchar said couples however have a special package where they pay $110 and get a full board offer that guarantees them accommodation, breakfast, lunch and dinner for a single night.
"This offer has been reduced from the usual $138 to enable couples enjoy this Christmas season. One can book for more than one night. Our customers are welcome and can stay for as long as they want," he said.
The hotel has different price rates for different accommodation facilities. The standard double room costs $72, one bedroom cottage, which can be occupied by a couple, costs $90, two bedroom cottage (with two bedrooms each with a different double bed) costs $120, the three bedroom cottage, which is good for a family and accommodate five people costs $165 per one night.
On Christmas eve and Christmas day, Forest Cottages customers will pay Ushs45, 000 for a three course Christmas meal. The meal will consist of a selection of starters, different selection of the main meal course, and a wide selection of disserts. The meal's menu will be continental however; the general manager says local food can be prepared on group order of more than 20people.
"The holidays have already begun; we are not looking at corporate customers but families looking to enjoy a good life, domestic travelers, Ugandans going for holiday and those traveling for leisure. We are mainly focusing on local travelers this festive season. We want them to enjoy the festive season affordably. The foreigners are out of the country," Macchar explained.
Macchar explained that Forest Cottages' strength lays in their unique accommodation and tasty food. "You can't get a place like this in Kampala, there are hotels in this town but none with this kind of atmospheric and safari setup. We are a forest within the city. Our food is tasty and for that matter many people have booked to have their weeding at Forest Cottages," he added.
Forest Cottages is a designed luxury cottages set in a serene forest environment. The well kempt cottages are located at Naguru Hill, Bukoto - Kampala, Uganda. The accommodation facilities at the Cottages are carefully landscaped, huge, made in indigenous material. The expansive Cottages offer customers comfort and entertainment away from their homes.
Forest Cottages has a swimming pool, health club facilities, conference facilities, restaurants and tour services. The natural rooms have wifi, telephones and locally made furniture. "Our vision is to ensure memorable experience to all our guests in every aspect of their stay. We are committed to excellence. Our visitors come from different parts of the world and we here to cater to their needs." Macchar explained.