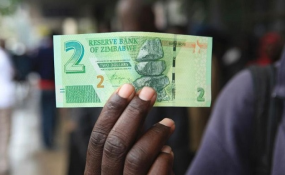 Photo: The Herald
By Mandla Tshuma
Bulawayo — It never rains but pours for the country's rural business person.
On top of the many challenges confronting rural businesses is the cash crisis.
In rural areas, the preferred mode of payment is cash because there is no adequate network coverage at most service centres to facilitate Point of Sale (POS) transactions.
In any case, the bulk of the rural population is still unbanked, meaning to say that their transactions are entirely cash-based.
Most of the rural businesses are retail by nature hence they depend on towns and cities for their supplies.
With their urban suppliers weighed down by the prevailing economic challenges, it follows therefore that all has not been well in downstream industries.
And if urban businesses thought that they were having a hard time trying to make ends meet, they would probably not last a day operating in the country's rural business centres where there are no such options as the use of debit cards for purchasing goods and services.
The now popular POS machines have never been heard of in the rural areas where, because business is so low and far in-between, it would make no economic sense to invest in the gadgets.
Targeting to have at least 30 000 POS machines by the end of this month, the Reserve Bank of Zimbabwe's call for consumers to switch to the use of plastic money has seen a more than 150 percent rise in the use of the gadgets in urban areas.
POS transactions leapt from about 400 000 in April to 1,1 million in August with the value of the transactions now averaging US$70 million per week from the previous weekly US$40 million.
In rural areas, businesses transactions have, however, traditionally been cash-based, which has made it doubly impossible for the average rural business to remain afloat.
Worsening the situation has been the struggling mobile money transfer facilities, which no longer disburse cash, making it even more difficult for urban dwellers to send money to those who live in rural areas.
In Bubi district, Matabeleland North, some general dealers have since closed shop as a result of cash shortages.
Bubi Rural District Council chief executive officer, Partson Mlilo, told the Financial Gazette the local authority had also lost significant revenue as a result of businesses succumbing to the cash crisis.
"Things are very difficult this side as we can no longer collect revenue from all shop owners in the district because most of them have closed their shops citing cash shortages, which are now making it difficult for them to sell their products," said Mlilo.
"For those customers who have money in their bank accounts they do the swiping in Bulawayo to buy their groceries and other things since they can't do it here, which has led to rural businesses suffering a great deal."
Siyabonga Gumede who runs a grinding mill in Lupane also said business was very low, not because people did not have grain, but because of the cash crisis.
"Customers tell me that they would really want to come and have their grain ground, but they do not have money to pay for the services," he said.
"This cash crisis is really costing us in terms of business. We, however, hope that the situation will in the long run improve with bond notes having started circulating," he said, adding that with the rural people largely unbanked, use of plastic money outside urban areas would not work in the next five or so years.
To address the ongoing cash challenges, on November 28 the RBZ released into the market bond notes in the denominations of US$2 and US$5 notes which are indexed at par with the United States dollar.
Their impact is, however, yet to be felt in the country's rural areas.
Zimbabwe National Chamber of Commerce Bulawayo chapter chairperson, Tshidzanani Malaba, said it was no longer viable for one to run a business outside urban centres saying rural businesses and their communities had become the first victims of the cash crisis.
"The only option for a business in such a community is to dispose stock through barter trading with chickens, goats and cattle," said Malaba.
"However, this means that this would be the end of the business because these chickens, goats and cattle are not modes of exchange at the wholesalers and manufacturers," Malaba hastened to note, adding that unless something was done to improve cash availability or use of plastic money the future would remain bleak for most rural businesses.
"Use of technology is not an immediate solution, therefore cash remains the short to medium-term solution for rural businesses, while technology-based solutions are worked on," he said.
An economist at Solusi University, Bongani Ngwenya, said with Zimbabwe still lagging behind in terms of technology infrastructure, rural businesses were bound to even suffer more as a result of the ongoing cash crisis.
"I am sure when government started encouraging the use of plastic money these challenges never crossed their minds at all," said Ngwenya.
"Government has a mammoth task to get the rural areas installed with technology infrastructure; otherwise the rural areas will remain alienated and disenfranchised," he added.
Buy Zimbabwe economist, Kipson Gundani, however, said it was up to the rural businesses to adjust to the new normal if ever they wanted to remain in business.
"This is a new normal and it is now up to the concerned businesses to make it convenient for their customers to buy from them; the unavailability of point of sale machines is not a valid excuse at all," he said.
Gundani insisted that there was need for a mindset shift on the part of rural business persons, saying that in other countries 99 percent of transactions are electronic, hence it was high time Zimbabwe followed suit.
Meanwhile, in some parts of Matabeleland South, where the South African rand is predominantly used, cash is not a big problem.
"For us here, it is business as usual because villagers use the South African rand and the Botswana pula. Mind you, we never embraced the US dollar," said Khululani Dube, who operates a shop and bottle store in Mangwe.
He said most villagers had family members in either Botswana or South Africa who send them cash almost every month through the cross-border traders popularly known as omalayitsha.