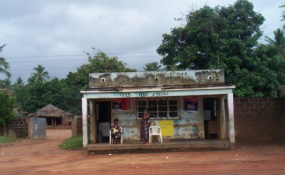 Photo: Brittany Gregerson
Reading the governments own accounts leads CIP to point to two actions which seem unclear and questionable. One is $1.1 billion external payment in 2015, which is unexplained but must be either a foreign loan repayment or an external loan made by the government - perhaps the on-lending of some of the secret borrowing. The other is an increase in credit to government in 2016 of $950 million, which CIP says was effectively printing money.
The government accounts for 2015 (Conta Geral do Estado, CGE) recently submitted to parliament have an entry for Foreign Borrowing - Other Operations of -42.1 billion Meticais (Mapa 1.1 and Anexo 2 Tabela 1), equivalent to 7.2% of GDP and -$1.1 billion at the average 2015 exchange rate - an amount higher than the entire EMATUM debt. This implies a foreign payment of $1.1 bn relating to a loan, but there is no explanation in the accounts of this huge amount, and it is not included in the foreign debt tables. CIP (Centro de Integridade Publica) says the National Accounts Office (Direccao Nacional de Contabilidade Publica, DNCP) would not provide further information. CIP does a further calculation comparing various annual state accounts and notes that the money held by the government (caixa) jumped dramatically from 21.7 bn Meticais in 2012 to 70 bn MT in 2013, a massive increase of $1.6 bn (at 2013 exchange rate). The money held by government remained the same in 2014, but then dropped equally dramatically to 46.4 bn MT in 2015, a fall of $650 mn (at 2015 exchange rate). Does this reflect the secret borrowing in 2013, and then on-lending of that money (for purchases including weapons) in 2015?
Another new CIP report accuses the government of "a structural problem in managing Mozambican public accounts [and] incessant interference by political elites in the conduct of the economy." The actions of elites to protect themselves is delaying corrective measures and damaging the economy. It says government should stop blaming the war, the international economic crisis, and low agricultural productivity for the crisis, and look at the real causes, which are political. In 2014 imports were 38% of GDP (excluding mega-projects) and exports were only 23% - the difference was made up by aid, loans and foreign investment, all of which have collapsed. It responded by borrowing $950 million dollars internally, which CIP argues was effectively printing money, which in turn caused the inflation and devaluation. The response was a huge rise in interest rates and a sharp increase in import costs, which hit local business very hard. This is because the Mozambican economy "is mainly one of intermediation and services" with a high import content, and the crisis "reduces the capacity of businesspeople to buy goods to resell".
CIP concludes that there is "a permanent lack of transparency in the management of public goods" and that the political elites have no interest in making the changes that are necessary to stabilise prices and increase production and employment.
When President Filipe Nyusi was inaugurated on 15 January 2015 he promised zero tolerance for corruption in government and he has been repeating the message more recently. But in a third report, CIP says it is all words and no actions. "Corruption continues to cause major damage to the State [and] we can see no strategic and effective actions by the government to combat the lack of transparency and corruption in public bodies and Institutions. The impunity of public officials involved in acts of corruption remains the rule, underpinned by the weak ability to recover funds illegally stolen from the state coffers."
But three days after the report was issued, Prime Minister Carlos Agostinho do Rosario told parliament that preventing and fighting against corruption "are priorities in the action of our government, because corruption compromises the government's efforts to improve living standards." (AIM En 15 Dec) However on 9 December President Filipe Nyusi admitted that corruption "persists in our country across practically all sectors of government, in both the public and private sectors, compromising social and human relations." Nyusi was speaking at an officer graduation ceremony at the Samora Machel Military Academy in Nampula.