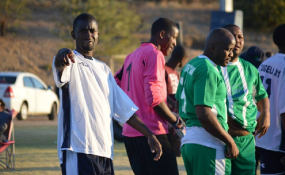 Photo: The Namibian
By Sheefeni Nikodemus
THE Namibian football fraternity is still reeling in shock at the news that ex-Civics midfielder Tugela Tulongeni Tuyeni died in a car crash on Friday.
Tuyeni (35) was declared dead upon arrival at the Tsumeb State Hospital after the car he was in crashed into a traffic sign between Tsumeb and Oshikoto. According to police, a minibus, carrying 13 passengers, is alleged to have driven into the back of the pick-up truck in which Tuyeni and three others were occupants, causing it to veer of the road and crash. The other three suvived the collision with injuries, while the minibus occupants emerged unscathed.
One of the recurring words used in the many tributes to Tuyeni was 'gentleman'. Those who had the privilege of meeting 'Gela' would know that to be a deserved accolade and that he was incredibly humble, kind and respectful to everyone he met.
Okahandja mayor Johannes Hindjou, who played alongside Tuyeni during Civics' golden period between 2005 and 2007 when they captured three consecutive league titles and campaigned in the Caf Champions League, said it was "very painful and tragic" to lose a personality of his calibre.
"Tugela was a true gentleman on and off the pitch. A very rare person. He is the most disciplined and dedicated football player I have ever come across," Hindjou told The Namibian Sport.
"He had talent, respect and was very helpful to other players, especially the youngsters. The thing that stood out about him was that he was always friendly and smiling even when times were tough," he continued.
"To his family, friends, colleagues, former teammates and fans, I know his death has left a big void in our lives but let us stay strong and have faith in the Almighty Father."
Also known as TT, he was a silky skilled midfield all-rounder who earned the respect and adulation of his peers and the fans of boyhood club Blue Boys, Blue Waters, Civics and Tigers.
Tuyeni won three caps for the Brave Warriors. He also won two league titles with Blue Waters and an FA Cup with Civics.
"Honestly, he was one of the greatest players this country has ever had in my opinion. You gave him any job and he would do it very well and without complaining," said former coach Ali Akan who brought Tuyeni to Civics from Blue Waters.
"His discipline and work rate were outstanding. He should have played more for the national team. It's a pity that he was overlooked on many occasions when he was the best midfielder in the country."
His career may not have scaled the heights of some of his more celebrated compatriots, but Gela was the model professional and maintained a level of consistency not very common in domestic football for nearly two decades.
"We have lost a great man. He started with Blue Boys at 17 [in 1996] and retired with the Blues Boys [in 2013] he loved. We love you Tugela," said Blue Boys executive member Elton Katangolo.
"This is a man I not only call a Civics FC legend, but a father to a son he adored a lot, a dedicated employee at MobiPay, a trainer at 6mo9 boot camp, a brother, son, and most importantly a friend to a lot of us," Civics chairman and former teammate Donnelly Nel stated.
"Civics FC wishes to convey their message of condolences to the Tuyeni family, his friends and to all soccer loving fans around the country. Words cannot even begin to express our sorrow. May your heart and soul find peace and comfort," he added.
Tuyeni's death comes soon after former African Stars defender, Bobby Tjiho died on Wednesday after succumbing to a long-running battle with a heart ailment. He was a member of the star-studded African Stars squad of the early 1990s.
While Tjiho was laid to rest on Saturday, Tuyeni will be buried on Wednesday or Thursday (still to be confirmed) in Swakopmund.