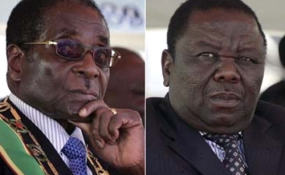 Photo: Google
Norton Member of Parliament, Temba Mliswa, said President Robert Mugabe should learn from the MDC-T leader Morgan Tsvangirai who has a record of acting decisively against corruption.
Tsvangirai, in 2010, fired all the Chitungwiza councillors after they had been fingered in corruption.
"President Tsvangirai of the MDC has proven that his party does not condone corruption by expressing his sadness in recent years.
"Zanu PF polices have failed and as legislators who are mandated to oversee government policies and their implementation we must not wait for 2018 to challenge that," said Mliswa.
Mliswa said as Zanu PF has become the "breeding machinery of corruption" he was going to petition President Robert Mugabe "to deal with his corrupt ministers".
The former Zanu PF Mashonaland West provincial Chairman, who was elected as Norton MP two months ago, has been vocal in parliament where he has been challenging government to address graft and the country's economic challenges.
Together with his MDC-T counterpart, James Maridadi, Mliswa, an independent MP, has arguably awakened the house of assembly with strong debates and motions.
In an interview in Harare, Mliswa said corruption is going to dominate parliament next year.
"The president (Mugabe) is talking and is not walking the talk on corruption. He seems to be breeding corrupt government ministers every day and Zanu PF has become a breeding machinery of corrupt ministers with impunity and they are all getting away with even murder," he said.
Mugabe routinely ignores accusations of corruption levelled against his ministers. This is despite the fact that he also routinely denounces graft in general terms.
Mliswa said he was also going to push for the arrest of Higher and Tertiary Education Minister, Professor Jonathan Moyo, who is accused of swindling $430 000 from a department which falls under his portfolio, the Zimbabwe Manpower Development Fund.
"Professor Moyo, I told him that do not appear before the Constitutional Court, and appear before the criminal court to exonerate yourself if you are not corrupt.
"I challenged him that this was good for him, good for the nation as well as the same President who supports him; Zanu PF must walk the talk," said Mliswa.