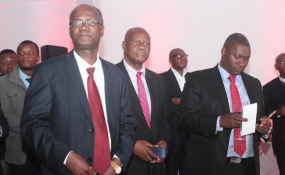 Photo: The Herald
Zimbabwe's anti-graft agency has reportedly vowed to "make history" in the southern African country by arresting the Higher Education Minister Jonathan Moyo in 2017, on fraud and corruption charges".
According to New Zimbabwe.com an unnamed Zimbabwe Anti-Corruption Commission (ZACC) official said that the agency had gathered "solid evidence" that would lead to the successful prosecution of Moyo.
The unnamed ZACC official said that the anti-graft agency had built a "strong winnable case" against the minister.
"In 2017 we are going to make history by sending to jail a whole government minister by the name of Jonathan," the official was quoted as saying.
Reports indicated that Moyo and his deputy Godfrey Gandawa allegedly embezzled a combined amount of $400 000 from the taxpayer funded Zimbabwe Manpower Development Fund (Zimdef).
Zimdef funds were meant to support students at tertiary institutions.
But an unfazed Moyo maintained that the charges levelled against him and his deputy were politically motivated.
In a recent video posted online, Moyo said they were people who were determined to have him arrested, while they were the most corrupt.
Moyo recently threatened to sue Deputy President Emmerson Mnangagwa, Information Minister Christopher Mushohwe and Information Ministry Permanent Secretary who is also President Robert Mugabe's spokesperson, George Charamba, among others, accusing them of using state institutions to launch a "smear campaign" against him.
Moyo claimed that Mnangwagwa was using the country's anti-graft agency, to settle political scores.
Last month, he handed himself to Zacc after he admitted in a series of tweets that he had diverted the Zimdef funds to his constituency.
Moyo was, however, later told by President Robert Mugabe to abandon the move and instead seek recourse within the ruling Zanu-PF party structures.
But according to reports on Monday, the Zacc official said: "We are are closely following all the shenanigans which Professor Moyo is doing. It is his constitutional right to challenge whatever he wants but the truth of the matter is that he stole the money and he shall not only be prosecuted but be convicted and serve a jail term."
Source: News24