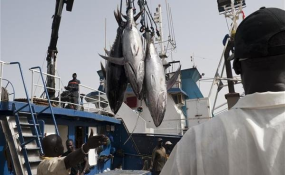 Photo: Christian Åslund /Greenpeace
Algeria's bluefin tuna quota for 2017 has been brought up to 1,046 tonnes, from 546 tonnes before, by the Internation Commission on Conservation of Atlantic Tunas (ICCAT), a source from the ministry of Agriculture told APS.
After laborious negotiations by the Algerian delegation during the ICCAT meeting held last November in Vilamoura, Portugal, the world organization approved an increase by 500 tonnes of Algeria's 2017 quota, rising thus from 546 tonnes to 1.046 tonnes, said the general coordinator for fishing and aquaculture at the ministry of Agriculture, Rural Development and Fishing, Tahar Hammouche.
In 2014's ICCAT meeting in Genoa, Italy, during which a fishing quota plan (until 2017) was developed, Algeria had benefitted of a gradual increase set at 243 tonnes for 2014, 370 tonnes for 2015, 460 tonnes for 2016 and 546 tonnes for 2017.