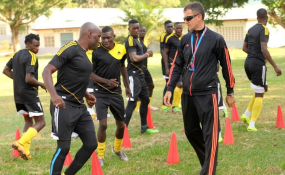 Photo: The Independent
editorial
Last Friday, the Uganda Cranes team boarded for Tunis where they will play the Carthage Eagles in one of the build-up matches for Afcon 2017.
There are friendlies against Slovakia and Ivory Coast to follow before the team connects to their base in Port Gentil where they will be camped in Gabon.
It will be the country's first participation at Africa's most prestigious soccer competition in 39 years and naturally, the country is awash with expectation.
In the last three weeks the team has held intensive training with coach Micho Sredojvic doing his very best to get the squad in peak condition going into the biggest competition of their lives.
Players have undergone physical and psychological preparation on and off the field to ensure that they are not overwhelmed by the grand stage of Nations Cup football.
Uganda's group in Gabon is a highly competitive one; it has record African champions Egypt, former Africa champions and perennial Fifa World Cup representatives Ghana and a seasoned Malian outfit that is accustomed to playing at the Nations Cup.
There is no doubt Uganda are rank outsiders in the group and the bookmakers favourites to exit the tournament after three matches.
But followers of the beautiful game over the years will do well to note that there has been a growing chasm between the haves and have nots in football competition world over.
Gone are the days when 'lightweights' like Cape Verde - or Uganda for that matter - meekly coiled when lining up against Africa's traditional powerhouses like Ghana and Egypt.
Such is the narrowness of the gap today that Ghana, who are Uganda's first opponents in Gabon, have respect whenever they take on Cranes. The Black Stars have scored only one goal - a highly dubious penalty - against Uganda in the last 270 minutes.
All Uganda will have to do in Gabon is enjoy themselves and play the three matches under no pressure. Sometimes in sports it helps to approach tense atmopheres with coolness, calmness and composure.
The team selected by Micho is a blend of youth and experience that will appreciate the need to take one game at a time and play with a free spirit.
After all no one will open a probe into why Uganda had a disastrous Afcon in the event that the team leaves Gabon empty-handed. Reaching Gabon was a milestone but the ideal scenario for Uganda is to make qualification a habit and not a one-off.
For now, the team are permitted to enjoy their time in Port Gentil.