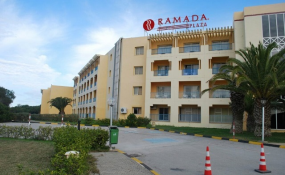 Photo: The Independent
What was supposed to be a trip lasting a few hours to Tunisia from Entebbe, turned into a two day trip that had Cranes start the new year at Dubai Airport.
Cranes finally arrived their destination, Tunis Sunday afternoon and so eager were they to get back to football that they could even afford some light training at Menza Stadium. The team flew out of Entebbe on Friday.
According to www.fufa.co.ug, during the training session, the team players focused mostly on muscle fixation, ball work and creating scoring opportunities. "Positively, the players response was a top notch as all of them enjoyed the session which they completed with success," www.fufa.co.ug reported.
"I want to thank you all for the commitment and dedication you have exhibited in training for the last two weeks at home but remember that is work half done. Today our journey to Africa Cup of Nations final has started," coach Milutin 'Micho' Sredejovich said.
"Training hard and being fit are some of those aspects we need if we are to perform well in AFCON but mental strength as well as team work will be paramount in our cause and approach," Micho said.
Uganda Cranes in Tunisia.
Uganda Cranes started the new year in Dubai, where they were stuck after a delay caused by bad weather in the Middle East.
They were supposed to have flown out to Tunisia on Saturday December 31, 2016, but delayed arrival in Dubai from Uganda on Friday December 30, 2016 meant they could only connect to their destinaiton on Sunday January 1, 2017.
The Cranes contingent left on Friday night aboard Ethiopian Airlines with the initial flight schedule that would take them via Dubai before connecting to Tunisia. Bad weather in Dubai saw the flight crew fly to Doha as a safety measure where the team spent the night.
Destiny u can't escape as iam going to spend memorable NEW YEAR eve with my UGANDA CRANES team in State of Art VVIP Lounge at DUBAI airport
Uganda Cranes is scheduled to play friendly matches against Tunisia on January 4, followed by games against Slovakia and Ivory Coast before flying to Gabon for the Total AFCON Finals 2017.
Uganda is in group D with Ghana, Egypt and Mali.
****