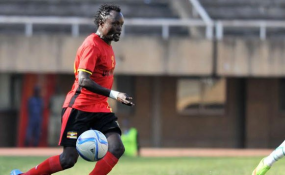 Photo: Eddie Chicco/Daily Monitor
By Andrew Mwanguhya
Kampala — Inspirational goalkeeper Denis Onyango will not be at the Menzah Olympic Stadium when Tunisia host Uganda in a friendly tomorrow, nor will Portugal-based winger Kizito Luwagga.
Onyango will be in Abuja, Nigeria, hoping to lift the Glo Caf plaque for the Player of the Year (2016) based in Africa on Thursday.
He faces Mamelodi Sundowns teammate - striker Khama Billiat of Zimbabwe, and midfield player Rainford Kalaba of Zambia and TP Mazembe.
On their side, Kizito Luwagga's Portuguese club, Feirense, and Fufa seem to have struck a chord to let the player feature in a league match before later joining the Cranes in Abu Dhabi and Dubai.
"So we have decided to let him play the match in one of the strongest leagues in the world, to have full match there, while here space is also open for someone else to prove himself," said Cranes coach Micho Sredojevic.
Back in Tunis, where goalkeeper Robert Odongkara was expected from his club in Ethiopia by press time, 24 others will be battling it out to force themselves into the final 23.
"I'm very satisfied with the dedication of the players in training. Everyone is fighting for their place," said Micho.
"However, I see huge room for development and am expecting that the way time progresses, we get quality improvement to get the good results." Barring any misfortunes, the final 23 will certainly include Onyango and Luwagga, who join the rest of the team in the UAE for a camp and friendlies against Slovakia and Ivory Coast before connecting to Gabon for Afcon finals kicking off on January 14.
A goalkeeper, where there are already three in Tunisia, a midfield player and striker will be sent back home after tomorrow's clash with Tunisia.
That will leave the squad at 21 players, with Onyango and Luwagga later making it 23.
Cold conditions
Regarding weather, Micho defended the choice of Tunisia (highs of 16°C and lows of 11°C), Abu Dhabi, and Dubai (highs of 24°C and lows of 14°C), which are colder than the tropical Gabon, where Afcon finals will be played.
"Last Africa Cup of Nations finals have had two teams that have been in Abu Dhabi, (that is) Ivory Coast; and Ghana has prepared in Spain; that is three times colder than here," explained the Serbian.
"Here (Tunis) during the night it is cold, the same as Addis Ababa approximately... During the day, it is quite pleasant.
"So I do not see it as a problem, but a test of character, in a way to be in a different environment and to adjust to different environment and to be ready for anything that football brings in front of us."
The Cranes put in a gym shift at Ramada, the Hotel they are lodged in Tunisia, before training at Menzah Olympic Stadium - tomorrow's match venue - last evening.
AFCON BUILD-UP GAMES
Tomorrow Tunisia vs Uganda
January 8: Slovakia vs Uganda
January 11: I. Coast vs Uganda
GROUP d fixtures
Jan 17: Ghana vs Uganda
Jan 17: Mali vs Egypt
Jan 21: Ghana vs Mali
Jan 21: Egypt vs Uganda
Jan 25: Egypt vs Ghana
Jan 25: Uganda vs Mali