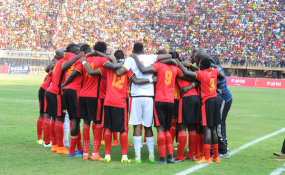 Photo: Eddie Chicco/Daily Monitor
By Andrew Mwanguhya
Kampala — Few teams have suffered under the ruthlessness of Tunisia and Egypt as Uganda Cranes.
Actually, Uganda's biggest ever losses have all come against the North Africans, suffering 6-nils, in turns, against Egypt and Tunisia in the 1996 and 2000 Africa Cup of Nations qualifiers respectively.
The Cranes have also lost all four matches against Tunisia, scoring just once and conceding 14 times.
Against Egypt, Uganda have managed only one win in 17 attempts, a 5-1 friendly victory in 1965, losing 13 others.
The Pharaohs are again in Uganda's way, both in the 2018 World Cup qualification and in Afcon Group D in Gabon that also includes Ghana and Mali
Similar brand
Perhaps this explains Cranes coach Micho Sredojevic's choice of Tunisia as part of preparations for the Egyptians since the two play a similar brand of unforgiving football.
Today's friendly against Tunisia at the Menzah Olympic Stadium in Tunis will not only help inform Micho's decisions on the final 23 squad to take on the Gabon assignment.
It will afford him glimpses on how to live with Egypt in Gabon, and a chance to check Tunisia's Carthage Eagles' rampant record against the Cranes.
The team did a vigorous two hours of training on Monday evening before a having a feel of today's match venue yesterday and Micho believes they can achieve their goals.
"The players have responded well to the training sessions and I believe in each one of them," said Micho.
"Each of these players has shown his best. So we shall use this match to choose the final 23 for Afcon in Gabon and the rest will be on standby mode."
The Cranes will, after Tunisia, travel to Dubai where they face Slovakia on January 8 and African champions Ivory Coast three days later before the final journey to Port Gentil in Gabon.
Uganda Cranes will be making their first return to Africa's biggest showpiece since 1978.
AFCON BUILD-UP GAMES
Today Tunisia vs Uganda
January 8: Slovakia vs Uganda
January 11: I. Coast vs Uganda
GROUP D FIXTURES
Jan 17: Ghana vs Uganda
Jan 17: Mali vs Egypt
Jan 21: Ghana vs Mali
Jan 21: Egypt vs Uganda
Jan 25: Egypt vs Ghana
Jan 25: Uganda vs Mali