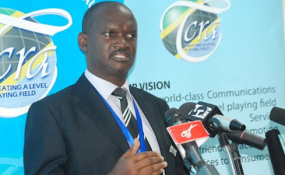 Photo: The Citizen
By Ludger Kasumuni
Dar es Salaam — Eighty-nine telecommunications companies are required to list at the Dar es Salaam Stock Exchange (DSE), the Tanzania Communications Regulatory Authority (TCRA) said yesterday.
Only three firms - Vodacom Tanzania, MIC Tanzania Limited (Tigo) and Airtel Tanzania - have so far submitted their prospectuses to the Capital Markets and Securities Authority (CMSA) as an initial step towards listing at the DSE, TCRA Director General James Kilaba told reporters. This means that CMSA has yet to hear from 86 companies.
Clarifying on what will happen to the firms that failed to meet the December 31 deadline, Mr Kilaba said that would depend on CMSA's verdict.
He said TCRA's task was to submit to CMSA a list of all 89 firms that were supposed to float their shares at the DSE to enable the companies kick-start the process of sending their prospectuses to the authority for approval.
"Right now we cannot take any action because the law on compulsory listing of shares at the stock market requires us to submit a list of companies to CMSA for assessment and then wait for their report," Mr Kilaba said.
"We can take action only after an assessment by CMSA, which has the professional competence to do that work. Action that can be taken against companies that will have deemed to have acted in a defiant manner includes de-registration and suspension"
Mr Kilaba said the list forwarded to CMSA includes not only mobile phone companies, but also internet service providers and other firms providing communication services.
In fact, this is a requirement of the Finance Act, 2016 which amended Section 26 of the Electronic and Postal Communications Act, 2010 (Epoca).
The Finance Act states that companies incorporated in Tanzania to provide telecommunication services are required to offload at least 25 per cent of their shares through an initial public offering (IPO) and subsequently list at the DSE as CMSA regulations require.
Before the June 2016 amendments, Epoca only required mobile phone companies to float at the DSE an unspecified number of shares that was to be determined by the minister responsible for telecommunications.
Section 22 of Epoca (together with the Finance Act amendments) says failure to comply with mandatory listing at the DSE is a breach that can lead to the cancellation or suspension of a company's licence if the firm will not have remedied any such breach "within 30 days of receiving notification from the Authority".
CMSA Public Relations Manager Charles Shirima confirmed that only three mobile phone operators had filed their prospectuses with the authority by yesterday.
"Our job is to receive prospectuses from companies, and we normally spend 21 days reviewing the documents before we can approve or reject them," he said.
The Minister of Works, Transport and Communications, Prof Makame Mbarawa, last week directed companies that had not taken the first steps towards listing to do so before the deadline, which was only three days away.