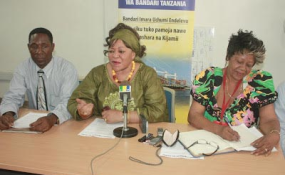 Photo: The Citizen
By Saumu Mwalimu
Dar es Salaam — A renowned female politician, Dr Anna Senkoro, died this morning, The Citizen can confirm. The cause of her death is yet to be established.
Dr Senkoro, who was for a long time a member of APPT-Maendeleo Party, was the first female to contest the presidency during the 2005 General Election in which Jakaya Kikwete emerged victorious.
During the 2015 General Election, her party announced in March that Dr Senkoro would stand as their presidential candidate before she defected to Chama cha Mapinduzi (CCM) and few days before the election campaigns she moved to Chadema.
Apart from her political practice, Dr Senkoro was a medical doctor and a mother of three children.