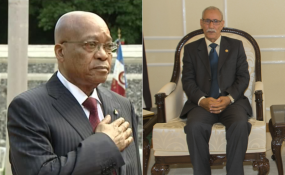 Photo: allafrica.com
analysis
This week's working visit to South Africa by President Brahim Ghali of the Saharawi Arab Democratic Republic (SADR) is significant as it comes at a critical time when we marked the 40th anniversary of the proclamation of the SADR, founded in 1976, and the continuing illegal occupation of Western Sahara by the Kingdom of Morocco. South Africa has maintained a principled position on the right to self-determination for the Saharawi people as enshrined in the United Nations (UN) Charter and the African Union (AU) Constitutive Act. We have also intensified our solidarity with the Polisario Front liberation movement, as they lead the people of Western Sahara in their quest for peace and independence. By MAITE NKOANA-MASHABANE, Minister of International Relations and Cooperation.
President Ghali's upcoming visit strongly signals South Africa's unwavering commitment towards the right to self-determination of the Saharawi people. The visit also aims to further strengthen and consolidate relations between our two countries.
In September 2004, South Africa took a decision to recognise the SADR when it became clear that Morocco had ruled out any possibility for a referendum for Western Sahara in contravention of UN Security Council Resolution 1495 of 2003.
Diplomatic ties between our two countries...