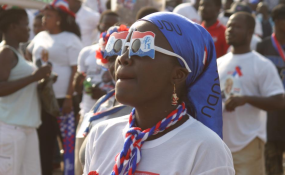 Photo: RFI
By Richard Kofi Attenkah
Even before his official inauguration as President of the Republic, the President-elect, Nana Addo Dankwa Akufo-Addo, has released the names of his first batch of appointments.
A 69 year-old development consultant, labour and employment expert with 40 years of experience, as well as a former lecturer at the University of Ghana, Legon, Akosua Frema Osei-Opare, was named Chief of Staff.
Mrs. Akosua Frema, who is a two-term Member of Parliament for Ayawaso West Wuogon, is also a former Consultant for the United Nations in the 'Women in Fisheries' programme in countries such as Uganda, Ethiopia, Congo, Kenya and Namibia, and a former Deputy Minister for Manpower, Youth and Employment, from 2005 to 2008.
Nana Addo also appointed 39 year-old Francis Asenso-Boakye, a development planning, project management and policy specialist, with over 15 years of wide-ranging professional experience in his field, as Political Assistant to the President & Deputy Chief of Staff.
Also appointed as a Deputy Chief of Staff is 33 year-old Samuel Abu Jinapor, a former aide to the President-elect, a barrister-at-law and a member of the reputable commercial and corporate law firm, Messrs. Kulendi @ Law.
This was contained in a press statement released by the President-elect to the Office of the President and copied to The Chronicle.
According to the statement, Brigadier General Emmanuel Okyere, an engineer who has a solid military background, having served in the Ghana Army for almost 40 years, and also a former Metropolitan Chief Executive of the Kumasi Metropolitan Assembly (KMA), has been appointed National Security Advisor.
Nana Addo also appointed Joshua Kyeremeh, a former Director of the Bureau of National Investigations (BNI), who worked at the Bureau for about 22 years at command levels in the Northern, Upper East, Ashanti and Greater Accra regions, to the position of National Security Coordinator.
A renowned lawyer, with over 20 years of experience and Managing Partner at Ampem Chambers, a corporate law firm in Ghana, Nana Bediatuo Asante has been penned down as Secretary to the President.
An old pal of the President-elect, Victor Newman, an economist, consultant, financial and research analyst, who worked at the Economic Research and Planning Services of the Ministry of Food and Agriculture, Western Castings Limited, and the Ghanaexim Economic Consultants, was appointed Director of Research.
Ambassador Hassan Ahmed, who is a career diplomat with Ghana's Diplomatic Service for 34 years, after serving in Saudi Arabia, Denmark, Cuba and Japan as Deputy Chief of Mission, and also as the Chief of Protocol at the Ministry of Foreign Affairs, has been named Director of State Protocol.
Furthermore, Nana Addo appointed his Press Secretary and a former Research Analyst at the Danquah Institute Director of Communications at the Presidency.
Again, 48 year-old Lord Oblitey Commey, an accomplished entrepreneur, astute politician known for his tactical, operational and organisational acumen, as well as Director of Operations for the 2012 NPP presidential campaign, was considered Director of Operations at the Presidency.
The position of Personal Assistant to the President went to 53 year-old Saratu Atta, who was appointed NPP Campaign Secretary in 2008, and has been Office Manager and Executive Assistant to the President-elect since 2009.
A campaign aide to the President-elect during the 2016 electioneering campaign period, who worked on contract with the Ghana Health Service and United Nations Children's Fund (UNICEF) on maternal health issues, Clara Napaga Sulemana Tia, was named a Presidential Staffer.