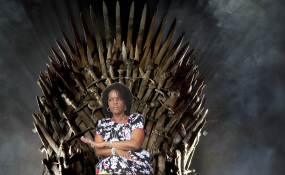 Photo: allAfrica.com
Zimbabwean First Lady Grace Mugabe says she is not in defiance of a court order compelling her to return three properties that she seized from a Lebanese businessman in a botched $1.35m diamond ring deal.
Harare High Court judge Clement Phiri ordered Grace in December to return the properties within 24 hours and to ensure that employees of the Lebanese tycoon Jamal Ahmed returned to their work stations.
The controversial First Lady, who is currently in China accompanying her husband, President Robert Mugabe, who is on his month-long vacation, has not taken any steps since the order was made.
The First Lady's attorneys, Manase and Manase Legal Practitioners, told the local daily News Day newspaper that Mugabe's wife was appealing against the court's decision and therefore, she was not in contempt of court.
"The whole process was wrong as the First Lady was never served with papers and we are challenging that decision. It is wrong to say she has defied a court order because we have already indicated that we are appealing against the ruling to evict those people occupying those properties," Grace's lawyer Wellington Pasipanodya was quoted as saying.
Threatened with harm
But Ahmed's lawyer, Beatrice Mtetwa, insisted that the First Lady was in contempt of court.
"You cannot appeal against a provisional order and the order that was made by Justice Phiri has to be complied with," said Mtetwa. "We have since approached the deputy sheriff to evict the people occupying the properties in question because they have refused to vacate voluntarily in compliance with the court order."
Court papers showed that Grace paid the full amount of $1.35m for the ring through a local commercial bank. However, the deal went sour after the First Lady decided that she no longer wanted the polished diamond ring upon delivery and demanded that Ahmed repays the money that she had paid. She also demanded that the money be paid into her private account in Dubai.
The diamond ring was meant to be Mugabe's gift to Grace to mark their 20th wedding anniversary.
Court documents also showed that Ahmed could not return to Zimbabwe after he claimed he was threatened with harm by some unnamed security personnel including Grace's son Russell Goreraza, his son-in-law, Simba Chikore and Kennedy Fero, who according to papers before court was part of the First Lady's security team.