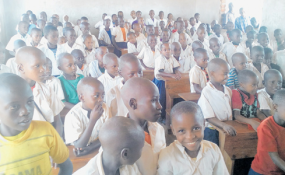 Photo: The Citizen
By Bertha Ismail and Zephania Ubwani
Arusha/Dar/Dodoma/Mwanza — Thousands of newly enrolled primary and secondary school children are likely to miss lessons as schools reopen today due to a serious shortage of classrooms, a survey conducted by The Citizen indicates.
The shortage has been caused by a surge in enrolment in public schools in response to President John Magufuli's free education plan.
In some regions, enrolment of Standard One pupils have doubled compared to last year's, putting considerable pressure on local governments to construct new classrooms.
With an increase in enrolment comes the need for more teachers, more desks and more laboratories. Arusha Region faces a shortage of 1,321 classrooms for public primary schools and 118 classrooms for public secondary schools.
Arusha acting regional education officer Emmanuel Mahundo said enrolment in primary schools has doubled to 42,891 pupils from last year's 23,314. The region needs 5,952 classrooms for the 519 primary schools, but has only 4,631 rooms. With a shortage of 118 classrooms for the secondary schools, about 4,752 students among 26,984 who were selected to join Form One this year, will have to wait until additional classrooms are constructed.
Only 22,232 students are assured of space in the government-owned secondary schools in the region this year.
Shortage of classrooms is not the only problem facing government-run schools this time around, it emerged last week during a series of regional meetings held ahead of the re-opening of schools. "There is a shortage of residential houses for teachers and science laboratories," Mr Mahundo said, noting that out of the required 6,159 units of living quarters for the teachers, there were only 1,968 available units.
The entire region had only 214 science laboratories in the government-owned secondary schools against the required 427, he explained, adding that shortage of the learning facilities would impact the government's emphasis on science subjects.
Dodoma under pressure
Dodoma Region is short of at least 950 classrooms for public primary schools and 50 classrooms for secondary schools this year, according to special report by the regional education office.
But various reports have indicated that the shifting of ministries and department headquarters to Dodoma will exert extra pressure on educational facilities in the region. The government's shift to Dodoma is expected to add 40,000 and 20,000 children in primary and secondary schools respectively, necessitating the need to construct over 2000 more classrooms--1,860 for primary and 551 for secondary schools. "After the government relocates here fully, the region will have a shortage of at least 1,860 and 551 clasrooms respectively," the education status report from the Dodoma Regional Education Office reads in part.
Dodoma regional commissioner Jordan Rugimbana puts the estimate of shortage as enough to construct 80 new schools. "If you calculate the number of classrooms shortage we have at different schools here, you would say it is enough to build 80 new schools, it is a great challenge that we must overcome immediately," he added. He said his office in cooperation with the Ministry of Education, Science, Technology and Vocational Training along with other stakeholders were addressing the matter.
He said he had already directed all district commissioners to set aside land for the construction of new primary and secondary schools. "We are raising funds from local and foreign donors to make the mission [of constructing new schools] possible. Most of them have so far shown readiness to support us, some in terms of cash while others have pledged to support us with building materials," he said.
In Mwanza, not all 43,536 secondary school students selected to join Form One this year may begin their education due to shortage of 923 classrooms.
According to the Regional Consultative Committee report, released on December 21, 2016 the region has 2296 classrooms in secondary schools. The region also face a shortage of 795 teachers for secondary schools, as the report indicate that there are currently 6280 teachers while the total number of those required is 7095.
The report also shows that the region faces a shortage of 9,437 classrooms, and 33,076 desks for primary schools. Last year, the region enrolled 156,598 pupils for Standard One, with the number expected to double this year.
Dar es Salaam Region has a shortage of 400 classrooms that are needed to accommodate 51,488 pupils who passed their primary school leaving exams. Due to the shortage, 18,820 children will remain stranded waiting for the construction of new classrooms because the space is enough to accommodate only 32,668 pupils.
Acting regional commissioner Ally Hapi said during Prime Minister Kassim Majaliwa's tour in Kigamboni District early this month that while efforts were underway to mobilise resources to construct new classrooms, they will request the Commissioner for Education to allow secondary schools have two sessions to ensure that all students who were selected for secondary schools attend classes.
In the meantime, Dar es Salaam regional administrative secretary Theresia Mmbando said the policy that requires students to attend schools that are at a reasonable distance from their residences has left 1,246 openings in public schools.
(Reported by Bertha Ismail and Zephania Ubwani in Arusha, Valentine Oforo in Dodoma, Geofrey Kimani in Mwanza and Dunstan Mhilu in Dar)