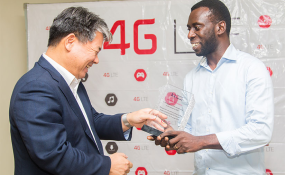 Photo: Faustin Niyigena/New Times
By John Mbaraga
4G network coverage will be extended across the country this year and is expected to reach coverage of 92%, according to Korea Telecom Rwanda Networks (KTRN).
The 4G Long Term Evolution (LTE) internet provider agency which is licensed as a wholesaler to expand the internet countrywide announced the target on Friday during a meeting with its retailers in Kigali to review last year's operations and chart a way forward.
Speaking at the event, Desire Ngabonziza the Chief Strategy Officer at KTRN said in 2016, the LTE subscriber base registered more than 200% growth compared to the previous year.
Ngabonziza said that different new products were developed last year as well as opening offices in Musanze, Huye, Rusizi, Rubavu and added that they want to go to the Eastern Province very soon to make the service more.
He said that they launched the 'LTE Advanced' product which is used on smartphones and enables users to use multi-antenna techniques.
"The biggest problem we still have is that we are mainly based in the city; let's do our best to expand these services in the countryside so that no client will need to come for our services in Kigali," Ngabonziza told retailers.
Way forward
In a move to expand the network, KTRN has set various strategies to take services across the country, starting with secondary cities.
KTRN is keen to work with partners to provide services to all users under coverage and setting up regional offices to support interested retailers.
"In past years we have been focusing on highly populated areas and centers, so this year, we are going to invest efforts to reach 92% of the total population coverage," said KTRN's Chief Technical officer Charles Gahungu.
He said last year's priority area was to make all 30 districts connected to 4G network, a thing that KTRN is proud to have accomplished.
He said their first priority this year on network connectivity across the country will focus on all Rwandan sectors' offices, health centers, banks and smart villages.
Gahungu added that they will prioritize colleges and tourism areas, main roads and villages as well as remote areas.
The KTRN's Chief Executive Officer Han-Sung Yoon (Patrick) said that through their services this year, partners will be able to create new businesses based on their choice of products.
"This year will be totally different from last year, for example our partner MTN has launched MTN TV, and this is a good product to integrate our services," he said adding that they are many available applications that can use 4G internet into services delivery.