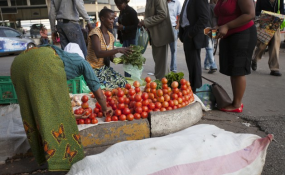 Photo: Jeffrey Moyo/IPS
THOUSANDS of vendors operating in central Harare have defied a government "ban" on the selling of vegetables and fruits in an effort to stop the spread of typhoid, saying the state must first give them jobs.
Some of those who spoke to Newzimbabwe.com said they would rather die fighting for vending space than be driven into prostitution and criminal activities.
Others said typhoid is not in the central business district but in the high density suburbs where there is unclean water, burst sewage pipes and heaps of uncollected garbage.
A snap survey conducted Thursday at Fourth Street bus rank, Copacabana and Market Square showed that as early as 8 am some vendors were already at their usual places trading on mangoes, tomatoes and wild fruits.
The Zimbabwe Informal Sectors Organisation (ZISO) and National Vendors Union of Zimbabwe (NAVUZ) estimate that more than a million people are surviving on vending. They attribute this to the failed economic policies and government inability to create 2.2 million jobs promised during the 2013 election campaign.
"We don't even want to sell tomatoes, we have certificates and job qualifications, but where can I go and work when companies have shut down due to unfriendly operating environment created by corrupt Zanu PF politicians," complained one Amai T.
"Why don't they give resources to the city council to clean high density suburbs where typhoid is thriving instead of fighting us," said one Trevor.
"Our fruits and veggies are fresh from the farms, so how can they spread typhoid," he added.
Ronald Murevewi, a leader with National Vendors Union of Zimbabwe, said the decision by the government was meant to punish urban dwellers ahead of the 2018 general elections so that they vote for the ruling party.
So far, nine people have died from typhoid while more than 2000 cases have been reported countrywide with most of them in Harare.
Addressing journalists in Harare Thursday, Zimbabwe Chamber of Informal Economy Associations (ZCIEA) national president, Lorraine Sibanda, said vendors were not the source of the problem.
"Government and councils should provide service to residents and stop blaming vendors while avoiding the real source of the mess who are the local authority and the ministry of local government.
"Our main concern is that vendors have been cited as the chief source of the typhoid outbreak whilst there is a lot of bureaucracy in the running of councils which is hindering the smooth flow of business," said Sibanda.
"Why has the Ministry of Health neglected to instruct or direct the local authority to clean up the faecal mess flowing in the locations for a good number of years which in itself was a time bomb? Were they waiting for typhoid?"
"What measures, if any, did the ministry of local government take to ensure that local authorities improve water reticulation and delivery systems," added Sibanda.