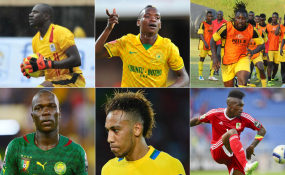 Photo: allafrica.com
By Agencies
Five Africa Cup of Nations facts ahead of 2017 tournament in Gabon:
1. Egypt have won the competition a record seven times, including three in a row between 2006 and 2010. Cameroon and Ghana are the next most successful nations with four titles each.
2. Fourteen nations have won the Africa Cup at least once and eight of them, Algeria, Cameroon, DR Congo, Egypt, Ghana, Ivory Coast, Morocco, Tunisia, will be in Gabon.
3. Goals have been scarce in recent finals with the last five producing three 1-0 scorelines and two 0-0 stalemates. The drawn deciders were won by Zambia and Ivory Coast after penalty shootouts.
4. Cameroonian Samuel Eto'o holds the overall individual scoring record with 18 goals while the nine of Congolese Ndaye Mulamba is the highest in a tournament and the five of the late Ivorian Laurent Pokou the most in a match.
5. Retired pair Rigobert Song of Cameroon and Hossam Hassan of Egypt share the record for Cup of Nations tournament appearances with eight each between 1996 and 2010.