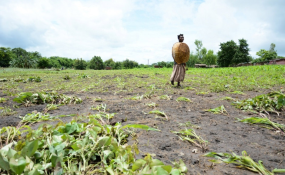 Photo: UNDP/Arjan van de Merwe
By Charles Mphwere
Blantyre City South Naotcha Ward Councilor, Helms Chimombo has urged chiefs surrounding Soche Hill to put up measures that will deter their subjects from continuing cutting down trees if the re-afforestation of the hill is to be successful.
Chimombo made the call during an interview with the Malawi News Agency (Mana) on Sunday following an announcement by a ward based committee known as 'Ankhalango' that it intends to plant 10 thousand trees within the hill during this year's tree planting season.
Chimombo observed with concern that people from Somba area are continuing cutting down trees in the hill despite numerous efforts to stop them and has therefore urged chiefs from Traditional Authority Somba to come up with measures to stop the practice.
"I would like to urge chiefs from this area to come up with drastic measures or come up with committees that will be tasked with the duty of preventing people from cutting down tress since the hill needs to tress.
"As you can see, people from Chilobwe side of the hill stopped cutting down trees, thanks to this 'Ankhalango' committee which patrols in and around the hill," he said.
He described as remarkable the idea to plant 10 thousand trees in the hill saying this would try to replace trees that have been cut down over the years.
"It's remarkable for a committee which works voluntarily to plant such a number of trees despite financial challenges," he said, adding that the establishment of a tree nursery within the hill is an example well set for other committees to emulate.
'Ankhalango' committee deputy chairperson, Japhet Kamowa hailed Chilobwe residents for their cooperation without which he said the committee could not have managed to achieve what it has accomplished.
"I want to thank the residents for their support, they listened to us and now they are assisting us in patrolling the hill," he said.
Ankhalango committee was established in March, 2016 as a control measure to make sure that people no longer cut down trees in the hill to curb deforestation and environmental degradation.