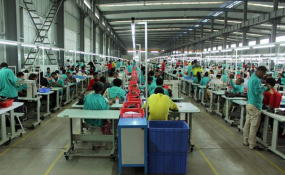 Photo: The Ethiopian Herald.
By Haftu Gebrezgabiher
Efforts made towards manufacturing and renewable energy development reduced country's vulnerability to price declines.
Ethiopia would not mainly base its economy on minerals and natural gas extraction. The country is rather developing various industrial parks, aiming to be African light manufacturing industries hub.
In a press conference Monday, Prime Minister Hailemariam Dessalegn said diversifying industrial parks is government's priority for it is a reliable path to achieve the set development goals.
"We have drawn lessons from Hawassa Industrial park. It has an economic value of generating over one billion USD annually. And we noticed that by diversifying such industrial parks, we can overcome hard currency shortfalls and unemployment."
The premier said though various companies engaging in the exploration of mineral ores and natural gas had reported a huge reserve, the sector is not an area of much interest.
His justification bases on the shaky price of minerals and oil. According to him, mineral and oil exporting countries had been worst hit by global price decline. "Ethiopia is able to stand off such risk owing to efforts made towards manufacturing and renewable energy development.
However, he underlined that the government would not impede the flow of Foreign Direct Investment engaging in the extraction of minerals.
Pertaining to hard currency shortage, the premier said the issue is common in countries like Ethiopia that invests 40 percent of their GDP.
He added the government does understand economists' premise to devalue Birr against the USD. "It is possible to devalue, however, the impact is high in that local companies and exporters will be much alarmed."
Mentioning last year's export volume marked increase, Hailemariam noted that the government is working to diversity export items this year.