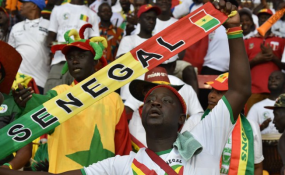 Photo: Africa Top Sports
By Paul Myers
It's 60 years since the first-ever Africa Cup of Nations (CAN). There will be more glitz and more teams taking part. But the will to win will be the same as when Egypt won that first all-Africa tournament.
10 February will mark 60 years since Egypt and Sudan played the opening match at the inaugural CAN in Sudan.
A few days after that first game, Mohamed Diab Al-Attar, better known as Ad-Diba, scored all four goals as Egypt thrashed Ethiopa to win the first of their seven titles.
The trophy presentation ceremony at the Municipal Stadium in Khartoum was standard fare for the times - handshakes, embraces, the distribution of medals and laps of honour.
Those elements still feature decades on in post-match celebrations but the victorious team on 5 February in Libreville will be blasted by music from a weapons-grade sound system and a firework display explosive enough to freak out the hawks in the Pentagon and Kremlin.
What remains unchanged though is the fervour to win a Cup of Nations medal.
Ad-Diba died on 30 December 2016 - just two weeks before the start of the 2017 tournament.
His footballing heirs command vast salaries at some of the world's most prestigious clubs. He and they are galaxies apart in terms of professionalism, pay and perks but what links them is the passion.
Didier Drogba won trophies galore at Chelsea but the Africa Cup of Nations remaiins absent from his list of accolades.
Can Côte d'Ivoire keep the crown?
The Ivorian icon played for his country over 12 years and ended up with a runners-up medal on two occasions. Ironically, Côte d'Ivoire won the title in the first tournament after the international retirement in August 2014 of one of the most successful strikers in African history.
Kismet? Hardly. There were a few remnants of Côte d'Ivoire's fabled golden generation in Hervé Renard's 2015 team.
Boubacar Barry, the goalkeeping mainstay during those early days, saved one strike during the penalty shootout against Ghana in Bata and buried his own spot kick to give his country their second title 23 years after they beat Ghana to take their first championship.
As always, the question will be can the Ivorians defend the crown?
Egypt did so twice achieving an unprecedented hat trick of titles between 2006 and 2010.
Before the Pharoahs' dominance, a successful defence had occurred only a couple of times before. Cameroon achieved the feat in 2002 in Mali after claiming the crown two years previously. Ghana won it in Tunisia against the hosts in 1965 after sweeping past Sudan 3-0 in the 1963 final in Accra.
Back in the early 1960s only six teams appeared at the event. The tournament was expanded to eight teams for the 1968 competition in Ethiopia. The number rose to 12 in 1992 in Senegal and since 1996, it's been a 16-side format.
Uefa, Fifa rake in the cash
The Cup of Nations' preceded Uefa's European championships by three years. Yet the younger brother moved to a 24-team structure for the Euro 2016 in France. That was estimated to have raked in 1.2 billion euros in tourism and spending related to the event.
Gabon 2017 is unlikely to harvest anywhere near that amount but the sums underscore the potential that can be wrung from the sport.
Top executives at the Confederation of African Football (CAF), which organises the Cup of Nations, can look only look on in envy at the seemingly relentless acquisitiveness of their counterparts at Fifa, world football's governing body. Just four days before the opening match in Libreville, the Fifa council agreed to expand the World Cup from 32 to 48 teams from 2026 onwards. It's a far cry from the 13-nation event of 1930 in Uruguay.
The brainchild of Fifa president Gianni Infantino has been criticised as a lurid attempt to rack up even more cash for the Fifa coffers. But no mover and shaker would be worth their salt if they didn't attempt such a change.
The revamped structure will mean more places for teams from Africa as well as Asia, but it leaves the Cup of Nations looking somewhat stunted.
Politically important pan-African institution
And yet expansion would bring its own complications.
"The Africa Cup of Nations is a great tradition. I would call it a pan-African institution unlike any other especially because the culture of football is unlike any other passion," says Peter Alegi, professor of African history at Michigan State University and author of several books on football in Africa.
"Politically it's also important to prove that Africans can organise these major events. But if you could bring roughly half of CAF's 55 members to a tournament, that wouldn't necessarily add matches to an already crowded calendar."
Expansion would make it difficult for most nations to host the tournament, Alegi points out.
"You'd be looking at a handful of countries being able to host it on rotation - probably with South Africa and several of the north African nations being in pole position."
With the self-basting operators at Fifa and Uefa lording the structural supremacy of their tournaments over CAF's biennial extravaganza, pride will inevitably force the hand of aspiring administrators in Africa.
With countless examples of organisational inadequacies for a 16-team affair, the grim truth for CAF as the tournament enters its 60s is that it has fallen behind its younger, yet savvier European brother.
But CAF and Uefa do share a problem. Their much older sibling at Fifa is venturing off in obscenely rude health into a lucre-laden wonderland.