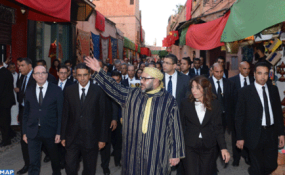 Photo: Agence Marocaine de Presse
opinion
Yohannes Woldemariam — Morocco is currently courting a number of African countries relentlessly, including Madagascar, Tanzania, Rwanda and others.
Morocco has signed 19 economic agreements with Rwanda and 22 with Tanzania -- two countries that traditionally backed Western Sahara's quest for decolonisation.
Nigeria and Morocco have signed a total of 21 bilateral agreements, a joint venture to construct a gas pipeline that will connect the two nations as well as some other African countries to Europe.
It is easily clear that the economic agreements with these countries imply ulterior motives for increasing Morocco's leverage in its campaign to return to the African Union (AU) and deal a blow to Western Sahara's aspirations for self-determination.
Morocco is waging a similar campaign internationally and in the halls of the US Congress by hiring expensive lobbyists and sleazy public relations firms
In this endeavour, it appears Morocco is making significant progress in isolating Western Sahara.
Kenya, which once supported Saharawi Arab Democratic Republic (SADR), reversed course in 2007 and now Foreign Minister Amina Mohamed, candidate to head the African Union Commission, is calling for holding, as quickly as possible, "the referendum on Western Sahara people's self-determination".
Zambia has similarly vacillated after early support for the cause of Western Sahara.
According to WikiLeaks, at least until 2009, Ethiopia's position was to recognise the SADR, declared by the Polisario (Western Sahara's guerilla army) in 1976 as its representative body.
It still remains to be seen how countries will vote when it really matters.
But why does Morocco need the AU? And why does it need to bribe the African countries in order to return to the continental body?
The explanation for this dubious posturing lies in Morocco's illegal occupation of Western Sahara and its need to legitimise it by enlisting as many African countries as possible to accept Western Sahara's fate as fait accompli.
Morocco has been occupying or colonising (take your pick) the territory since 1974.
Recently, UN General-Secretary Ban Ki Moon characterised Morocco as an occupying force in Western Sahara, which obviously did not sit well with Morocco.
Ethiopia is seen as key for Morocco's goals, as a founding member of the OAU hosting the headquarters of the AU's Chinese-funded 200-million-dollar building in Addis Ababa, showcasing Chinese soft power.
Morocco is framing its charm offensive in Africa in terms of South-South cooperation.
But what really is Morocco's commitment to South-South cooperation?
Like Ethiopia, Morocco's commitment, first of all, is commitment to an extreme form of neo-liberalism and to an environmental narrative that blames pastoralists and their overgrazing practices as an excuse for invading and appropriating land for commercial agriculture and other land grabs.
In Morocco, state services such as health care and education have faced drastic reduction.
The promotion of exports and the lowering of tariffs is the reality. For the majority of their populations, rampant degradation and poverty are the reality in both countries.
A central tenet of South-South cooperation is poverty reduction, but neo-liberalist market fundamentalism is incompatible with reducing inequality and protecting the environment.
The beneficiaries from these policies are the elite and international capitalists and their results are a far cry from South-South cooperation that would alleviate poverty.
Even the 22nd Conference of the Parties (COP22) to the United Nations Framework Convention on Climate Change (UNFCCC) was used by Morocco to insert itself in the November 16, 2016 meeting of the Africa Action Summit in Marrakesh.
King Mohammed VI was the new face in the meeting, clearly pushing his campaign to get rid of SADR from the AU.
The struggle to deal seriously with climate change should not be circumvented by the unjust political agendas of opportunistic leaders.
As Hamza Hamouchene of War on Want articulates: there cannot be authentic environmental justice in Morocco when its government ignores the political rights of the Saharawi people.
In 2009, in his capacity as a designated negotiator, the late Ethiopian Prime Minister Meles Zenawi betrayed the G77's and Africa's collective stance in Copenhagen by making a back-door deal with France, retreating from the agreed upon 1,5 degrees Celsius target to 2 degrees and thereby dealing a serious blow to the bargaining capacity of the global South.
As Kate Sheppard of Mother Jones magazine wrote:
"The major powers welcomed Ethiopia's defection from the 1,5-degree target. British Prime Minister Gordon Brown . . . endorsed the side deal with France . . . Obama placed a call to Zenawi (in which he) expressed his appreciation for the leadership (of) the Prime Minister . . . (In negotiating) with African countries on climate change."
The truth was that Meles used Copenhagen to further his own immediate agenda at the expense of Africa in much the same way that King Mohammed VI used COP22 to support Morocco's agenda of denying the rights of the Saharawi people.
Moroccan and Ethiopian versions of South-South cooperation is simply a repackaged version of neo-liberalism based on extractive activities and destroying the lives of the most vulnerable.
It is not a coincidence that both Ethiopia and Morocco are facing internal resistance from their populations, which they are trying to suppress with extreme violence.
The brutal death of the fish seller Mouhcine Fikri in the northern Moroccan town of Al Hoceima while trying to rescue his swordfish is being compared with the Tunisian fruit seller Mohamed Bouazizi in 2010, whose death sparked the Arab Spring uprisings.
Neo-liberal privatisation is preventing and displacing folks who have been selling or consuming fish for as long as they have been living in the coastal towns of Morocco.
In Ethiopia, it is land grab and extreme repression that is having similar effect on communities in Gambella, Benishangul, and the Amhara region, Sidama, Konso, Ogaden and Oromia.
January 31, 2017, in Addis Ababa is the next AU summit, where Morocco is hoping to achieve its sinister goal against SADR.
The honourable thing for the AU to do is to rebuff Morocco's arm-twisting and vigorously support the self-determination of the Saharawi people. -- Pambazuka News.