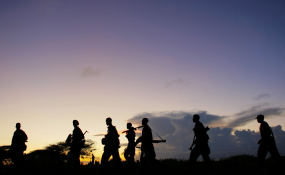 Photo: Stuart Price/UN Photo
analysis
With the Trump administration about to start, J. BROOKS SPECTOR takes a turn at trying to fathom out the likely outlines of a Trump administration's policy towards the African continent. It is not an easy one.
Well, okay, we shall just have to admit it - this week, Donald Trump will be sworn in as America's 45th president, and whatever fears and trepidations there may be will inevitably have to change into an ongoing analysis of actual decisions, a weighing of the good, the bad and the ugly. And going forward, the decisions he and his administration make will have consequences. In a recent interview with The Wall Street Journal, Donald Trump let it out that he is rethinking America's "one China" policy as well as the fact that economic sanctions against Russia could soon come under review or even reversal.
The American "one China" policy came into being in 1979 with the recognition of the People's Republic of China as the sole bearer of Chinese national sovereignty, but with an understanding that the US-Taiwan relationship would continue as a non-diplomatic expression, similar to arrangements in place by a number of other nations, including South Africa's own policy, post-apartheid. The...