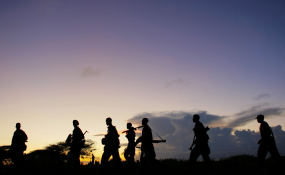 Photo: Stuart Price/UN Photo
By Risdel Kasasira
Kampala — The transition team of the US President-elect Donald Trump has asked whether it's worthwhile for the US government to continue funding the fight against Lord's Resistance Army rebels and Al-Shabaab.
This is contained in a questionnaire the team sent to the US State Department whose contents were published by the New York Times on Saturday.
The Trump team was seeking advice on how the incoming government should safeguard its security interests and use of ad in Africa. Mr Trump will be sworn in as 45th President of the US on Friday.
"We've been hunting [Lord's Resistance Army rebel group leader Joseph] Kony for years, is it worth the effort?" the document poses. "The LRA has never attacked US interests, why do we care? Is it worth the huge cash outlays? ... Even the Ugandans are looking to stop searching for him, since they no longer view him as a threat, so why do we?" the document that was quoted by New York Times reads in part.
At least 100 US Special Forces have been working with the UPDF in the Central African Republic to hunt down the LRA rebels and its elusive leader Joseph Kony since October 2011.
It's not clear how much the US spends on the operations against LRA but Washington announced a $5 million reward in 2013 for information about Kony who is wanted by the International Criminal Court over war crimes.
The Trump team also asked: "We've been fighting al-Shabaab for a decade, why haven't we won?" US government has been supporting African Union to fight the Al shabaab insurgents in Somalia.