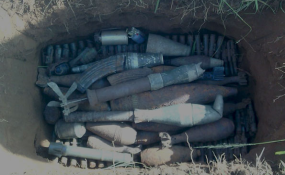 Photo: Daily Monitor
By James Owich
Pader — Six children from the same family in Pader District are nursing severe wounds after an object suspected to be a bomb which they were playing with exploded and injured them.
The incidence happened at Libi village, Bur-Lobo Parish in Angagura Sub County on Monday,
The injured children are Gipsy Amarorwot, 3; Angel Lagum, 6; Samuel Lubangakene, 3; Geoffrey Gumperom, 1 and Mystica Lamwaka, 2; all children of Mr Vincent Komakech.
Daily Monitor understands that the children found the metallic object in a kraal and started playing with it before disaster struck.
The children were taken to St Mary's Hospital Lacor in Gulu District about 110 kilometres from their home to get medical attention.
Lagum, the eldest child told Daily Monitor on Tuesday from her hospital bed that they were hitting the suspected bomb with sticks when it exploded.
"We wanted to explore what was hidden inside the strange metallic object we found. Minutes later, I hardly remember anything but only to wake up in pain," she said.
Apart from Lagum, four of the five children were seriously injured with one almost losing the flesh on her thigh.
In 2013, two children died instantly after a grenade the picked from a garden and started playing with exploded.
Mr Dickson Ojok, the District Councillor for Angagura Sub County, said the children suffered serious injuries on chests and thighs.
Mr Ojok said they suspect the object could be a landmine that was abandoned during the peak of the Lord's Resistance Army insurgency.
Bomb experts from the Tactical Field Engineering Unit under the 4th Division Infantry Headquarters and Combat Engineering Department in Gulu have destroyed dozens of 20 mm recoilless bombs, rapid propeller grenades, 84 mm bombs, anti -tank landmines among others in several villages in northern Uganda.
Districts that were heavily affected by LRA insurgency in Acholi and Lango sub regions are Gulu, Pader, Kitgum, Abim, Lamwo, Dokolo, Alebtong, Lira, Kole, Otuke, Oyam, Agago, Amolatar and Apac.
Lt. Ahmad Hassan Kato, the 4th Division army spokesperson warned farming communities that it may take years to clear landmines and other explosives from the region.