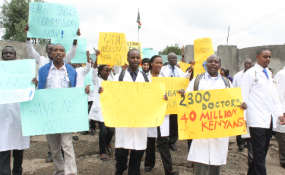 Photo: The Star/ Ben Ndonga
By Simon Ndonga
Nairobi — Talks between the Kenya Medical Practitioners, Pharmacists and Dentists Union (KMPDU) and the Ministry of Health on the Collective Bargaining Agreement signed in 2013 are set to resume Wednesday as the strike by medics continues.
On Tuesday, Health Cabinet Secretary Cleopa Mailu met with the Kenya Medical Practitioners Pharmacists and Dentists Union for close to five hours where two issues in the CBA were dealt with.
The government has maintained that it will not register or implement the CBA because it was not within the Salaries and Remuneration Commission's guidelines for public servants.
The talks on Wednesday are expected to address the issue of remuneration of doctors.
Mombasa Senator Hassan Omar Hassan has in the meantime urged Governors to reconsider their stand on the sacking of doctors as talks to resolve the ongoing strike continue.
In a statement, the Mombasa Senator described it as an archaic tactic which amounts to intimidation and would have a negative effect on the talks.
Omar indicated that Governors should instead engage candidly and in good faith in a bid to end the industrial action.