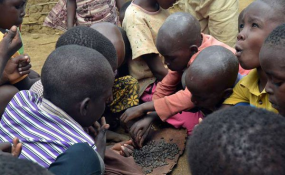 Photo: Kazungu Samuel/Daily Nation
By Charity Wambugu
Residents of some parts of Kiambu County are set to start experiencing water rationing as dams in the region continue drying up due to the persistent dry spell.
County Executive for Water, Environment and Natural Resources Esther Njuguna has therefore warned people in the county to preserve the water they have and buy more storage containers.
She has also appealed to the residents to be active in preserving water catchments in their areas.
Speaking to journalists Thursday in her office in Thika, Ms Njuguna revealed that water rationing in some parts of Kiambu County is on.
She said that most dams in the county have dried up, heralding a gloomy situation.
However, Ms Njuguna said the county government is already dealing with the situation to ensure that no resident is severely affected.
"We are already ferrying water using trucks in some parts of Kiambu which have been adversely affected by the hot weather.
"We are asking our people to [utilise] the available water for domestic use only and preserve [water sources] by planting trees and reducing encroachment of river banks,' she said.
DROUGHT MITIGATION
The water boss observed that the Kiambu County government has initiated mechanisms of mitigating future drought occurrences by intensifying the water tracking and digging more boreholes which she said are more adaptable to drought seasons.
"We are asking Kiambu residents to make home dams to ensure efficient and enough storage of water during floods which could be used during dry seasons like now," she said.
She also appealed to car owners to consider wiping their vehicles instead of washing them.
She added that the situation in Kiambu is as a result of poor preservation of river banks.