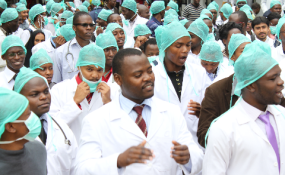 Photo: The Star/ Monicah Mwangi
By Eunice Kilonzo
Nearly 4,000 dismissal letters will be issued to doctors who are on strike from this week, the Nation.co.ke has learnt.
Chairman of County Health Executives Forum Andrew Mulwa said immediately county governments issue the letters, there will be no further negotiations with the doctors who have boycotted work since December 5, 2016.
Dr Mulwa said the dismissals come after the doctors were given show-cause letters, on or around January 11, to explain why they had absconded work despite their strike being declared illegal by court.
The Makueni County Health executive, a medical doctor himself, said the health workers had remained rigid in the talks even when the government was showing goodwill. According to him, there are plans to employ doctors on contracts instead of permanent terms.
"It's time to reorganise how we engage with them, say two or three years' contracts. For those who will be dismissed and want their jobs, they will have to apply again on the short terms which will be in line with the 40 per cent the government has offered," he said.
TALKS COLLAPSED
Talks between the Health ministry and the doctors collapsed last week in Nairobi, two days after they began.
On Thursday, seven Kenya Medical Practitioners Pharmacists and Dentists Union leaders will be jailed. This is when the two weeks given by the court for talks lapses.
Union secretary-general Ouma Oluga said the doctors will keep demanding better healthcare through the registration and implementation of the 2013 collective bargaining agreement.
"Please pray for us to get a solution. It has been seven weeks and it is not good, it is unfortunate and sad," Dr Oluga said yesterday in Nairobi during a prayer service at the Oasis of Miracles Church.
The health Ministry, in a statement to media houses, said Kenyans could access services in over 2,000 faith based facilities and in "nearly 6,000 public dispensaries, health centres, and outpatient departments in public hospitals which are currently offering services".
Additional reporting by Pius Maundu